The 1:Many Emails capability is designed for CSM's to send and distribute personalized emails at scale. Emails are personalized and sent from your email account that is authenticated to ClientSuccess so when your customers open it's as if you sent 1 email a single customer with all of the high-touch, individual messaging that one would expect in a 1:1 conversation. Users of 1:Many have the ability to:
Send emails in bulk to customers, contacts, and badged contacts with a personalized, high-touch experience

Leverage existing segments & filters to identify and target the perfect audience

Create personal or global templates

Select pre-configured templates for rapid authoring and editing

Group emails by Customer to reduce the # of outgoing emails

Schedule emails at the perfect time for optimal engagement

Automatically throttles emails sent to loads of recipients
The 1:Many "Send Email" option can be accessed via the Customers or Contacts grids.

Sending Emails
After selecting "Send Email" users are presented with a New Email window where they can start a new email or select a pre-configured template.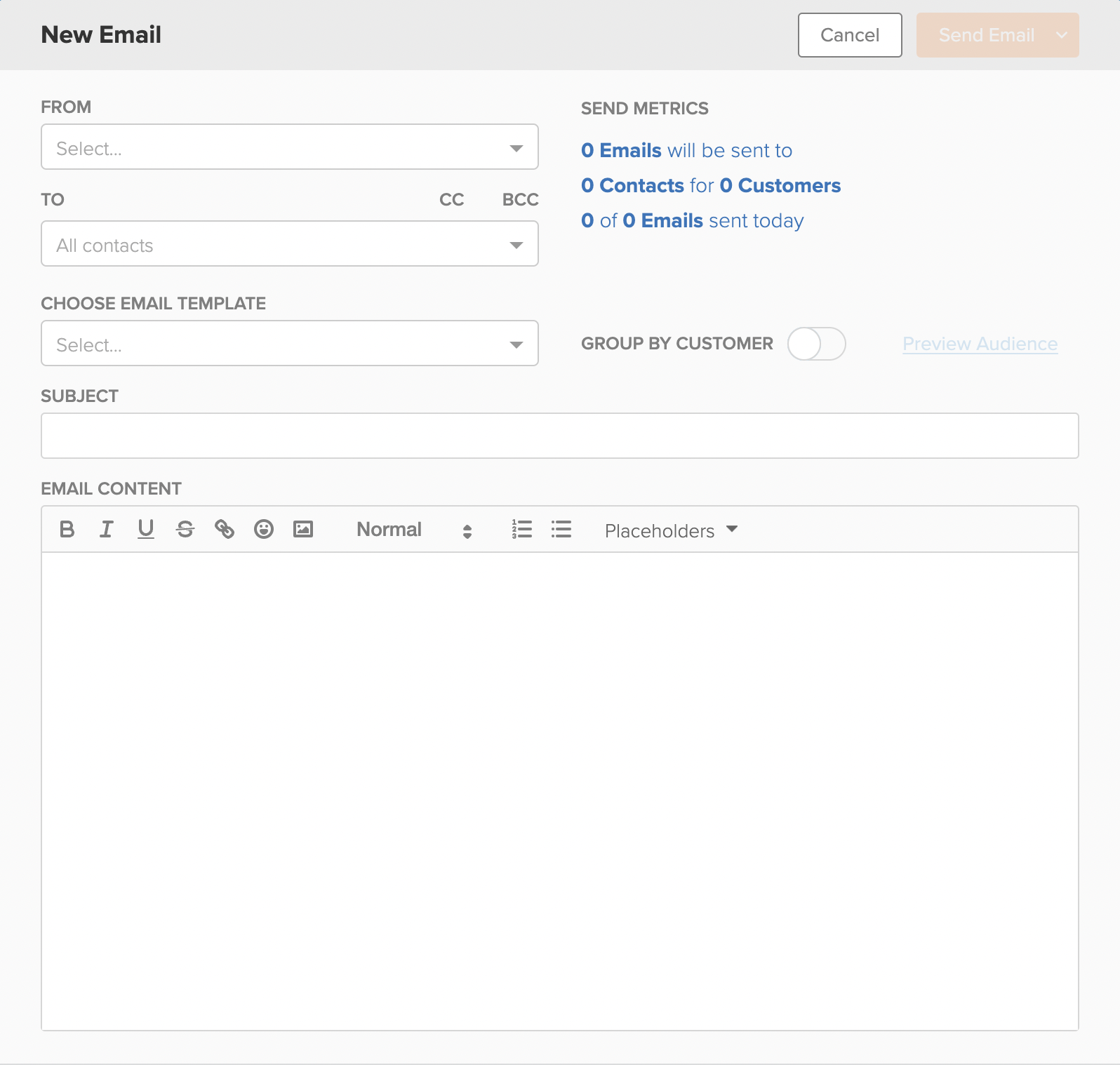 After a template is selected and the email content is filled in, the email can be modified to send exactly what you would like. In the example below, the segment of "Renewing next 90 days" has been selected from the Customer Grid which represents 11 emails to 11 contacts at 5 customers.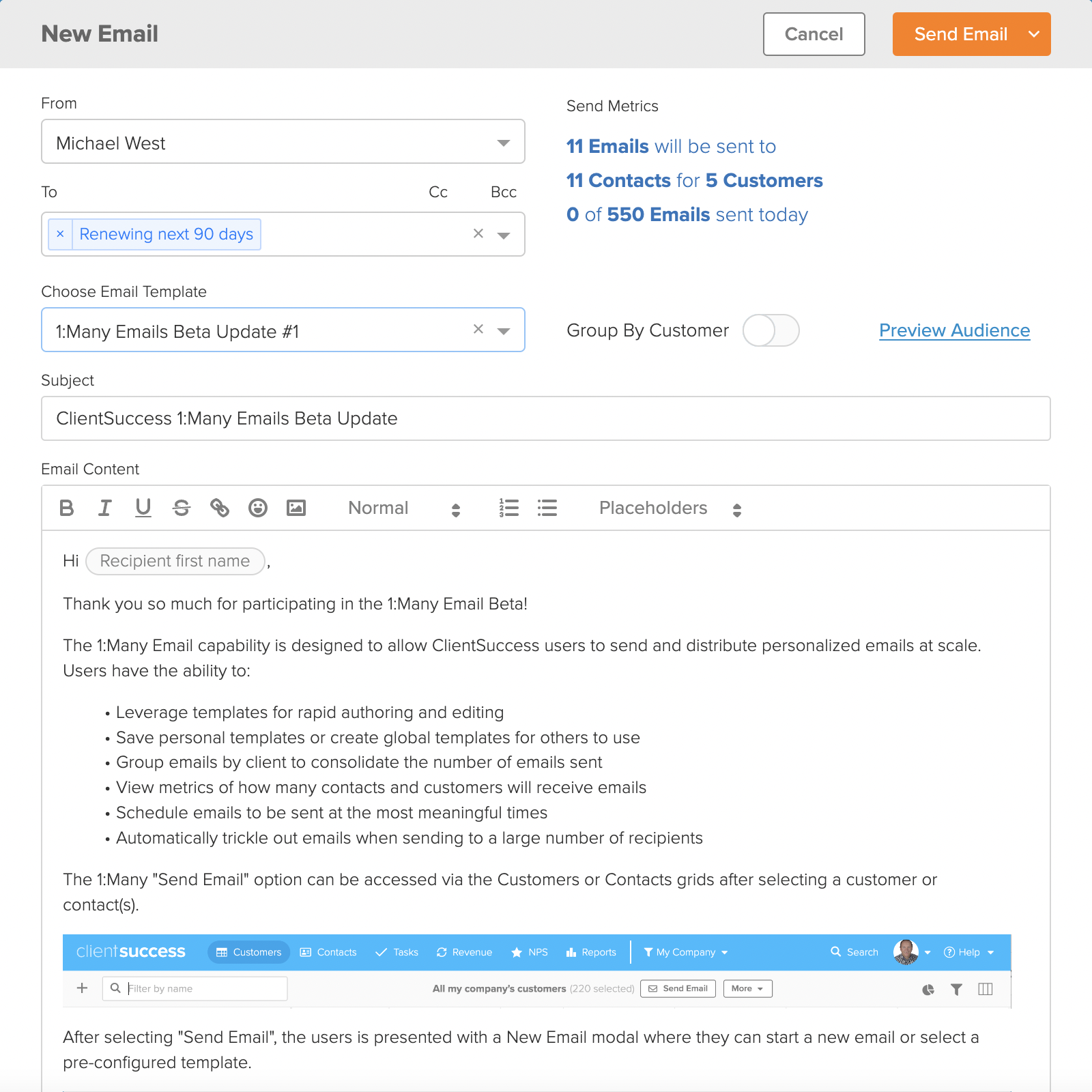 Notice the option to Group By Customer. The template placeholder can be changed to use "Company name" and when the Group by Customer option is selected, only 5 emails will be sent out to the 5 customers with a total of 11 contacts resulting in a much more personal message to the contacts at the same company.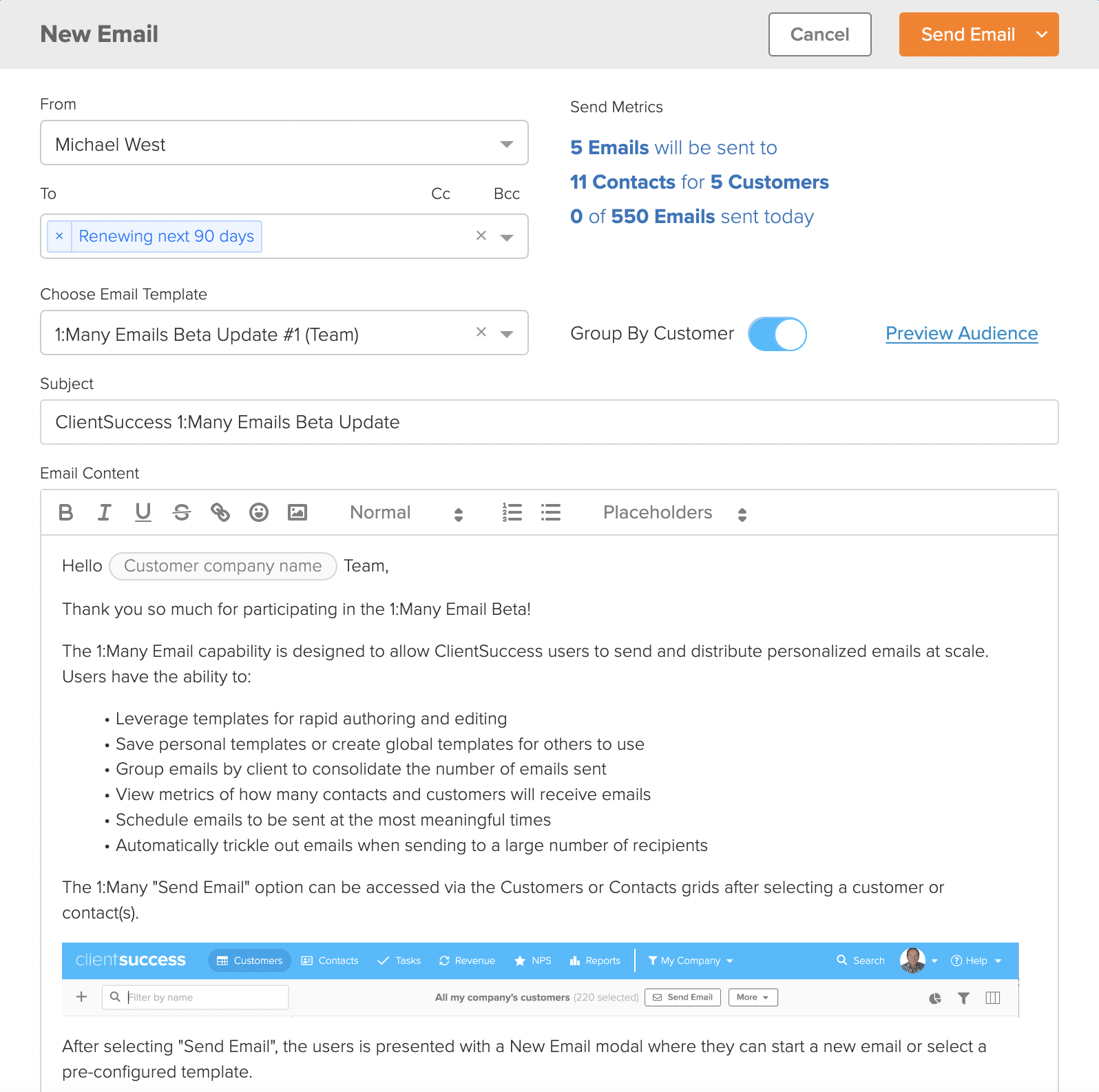 Choosing an Audience
Badged Contacts can be selected for quick email delivery to the customer segments.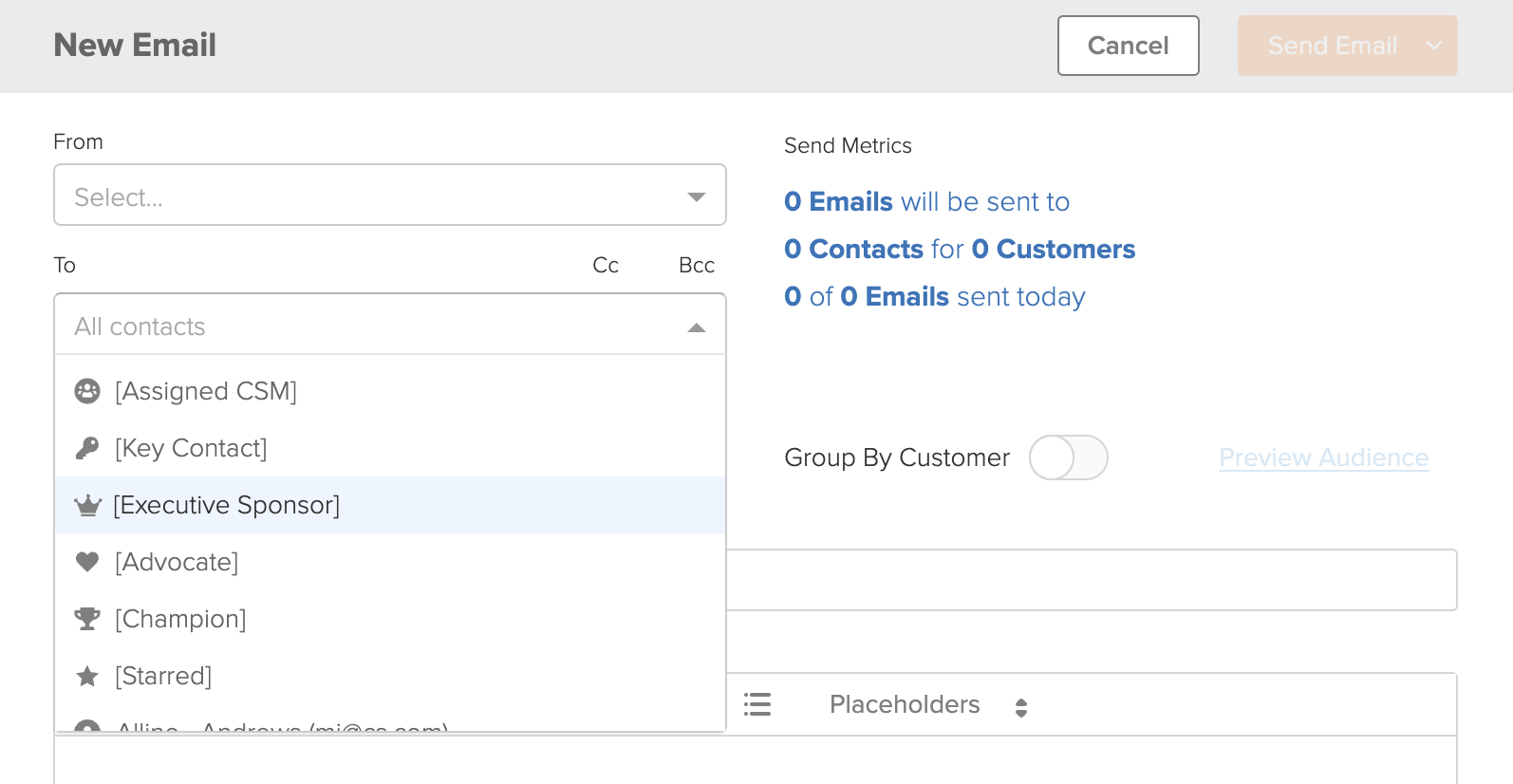 Segments, Badged Contacts, and Filters can be used to together in the "To" line to filter down to the exact audience that you would like to send reach. In the example below, the email will be sent to Executive Sponsors of Customers renewing in the next 90 days.


Individual Customers or Contacts can be searched for on the To Line as well.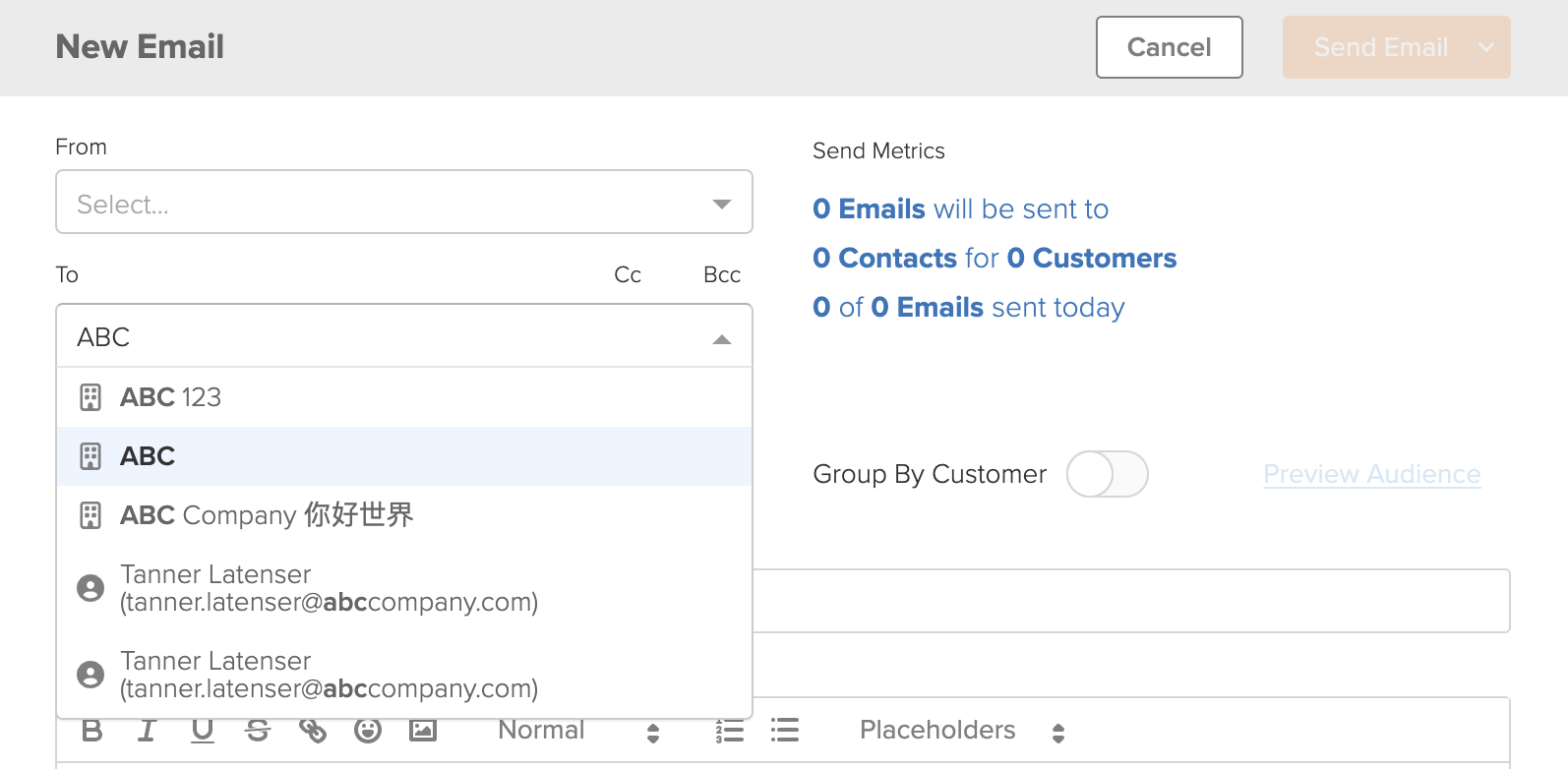 Email Templates
Email Templates can be managed in the Global Settings > Email > Templates page. New email templates can be created, or existing email templates can be edited, copied or deleted.

Schedule Email Sends
Emails can be scheduled on your timeline and timezone so they will be received at the optimal time for maximum engagement. To schedule the email send, click on the down arrow in the "Send Email" button.

Choose a date and time that you want the email to be sent.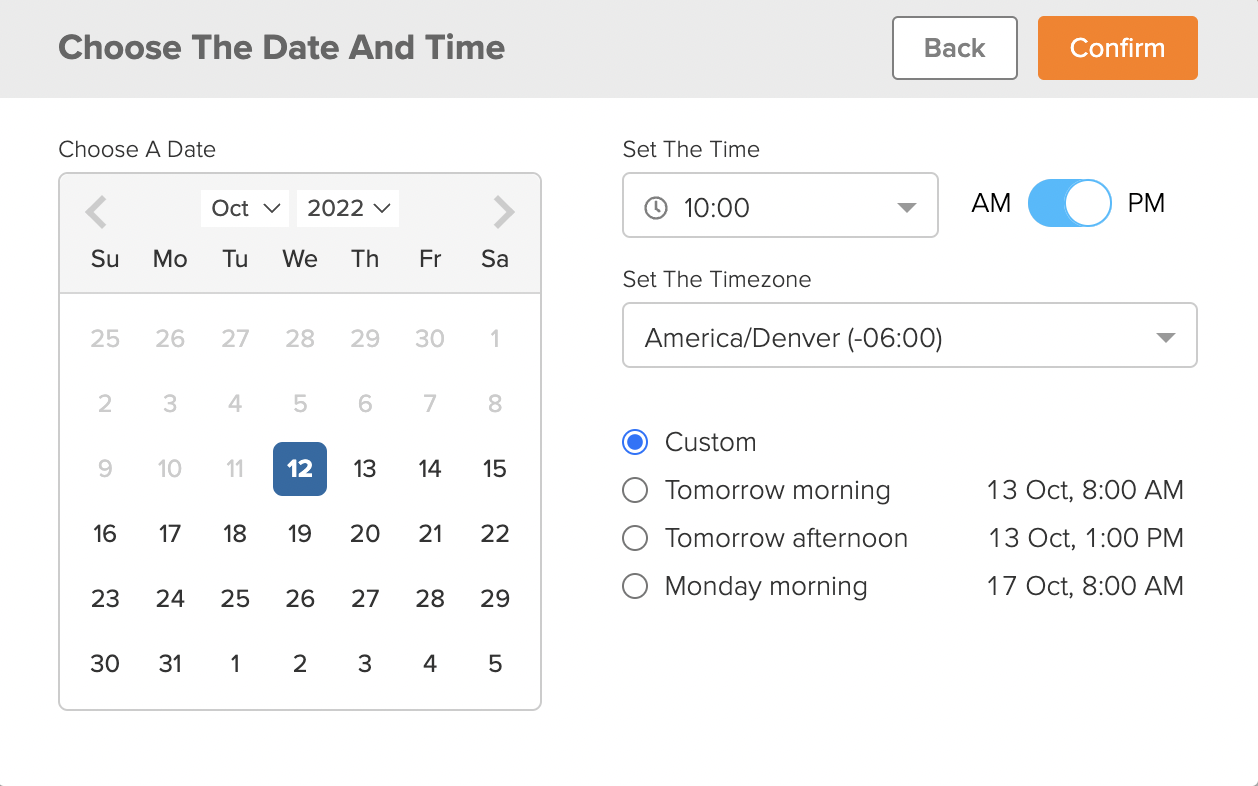 Manage Sent Emails
After the email is sent, progress and completion can be managed from Global or My Settings in the Email > Outbox.

Email jobs in Progress can be paused or canceled if you happen to forget something after hitting send, and then can be resumed when you are ready.

Note: When the number of emails to be sent out is greater than what your personal email box allows per day, 1:Many Emails will throttle the emails out so you never have to worry about being placed on the "No-fly" email list. 😀
Copy 1:Many Email Job
Users can now copy a previously sent 1:Many email job to quickly create a new email and reuse the previously selected audience. In the Email>Outbox screen, click on the elipsis (3 dots) on the far right and copy the job.

The New Email modal will pop up and you can create a new email or resend the original email to save a lot of time in the process. Notice all of the original fields are still filled in, including the the recipient(s).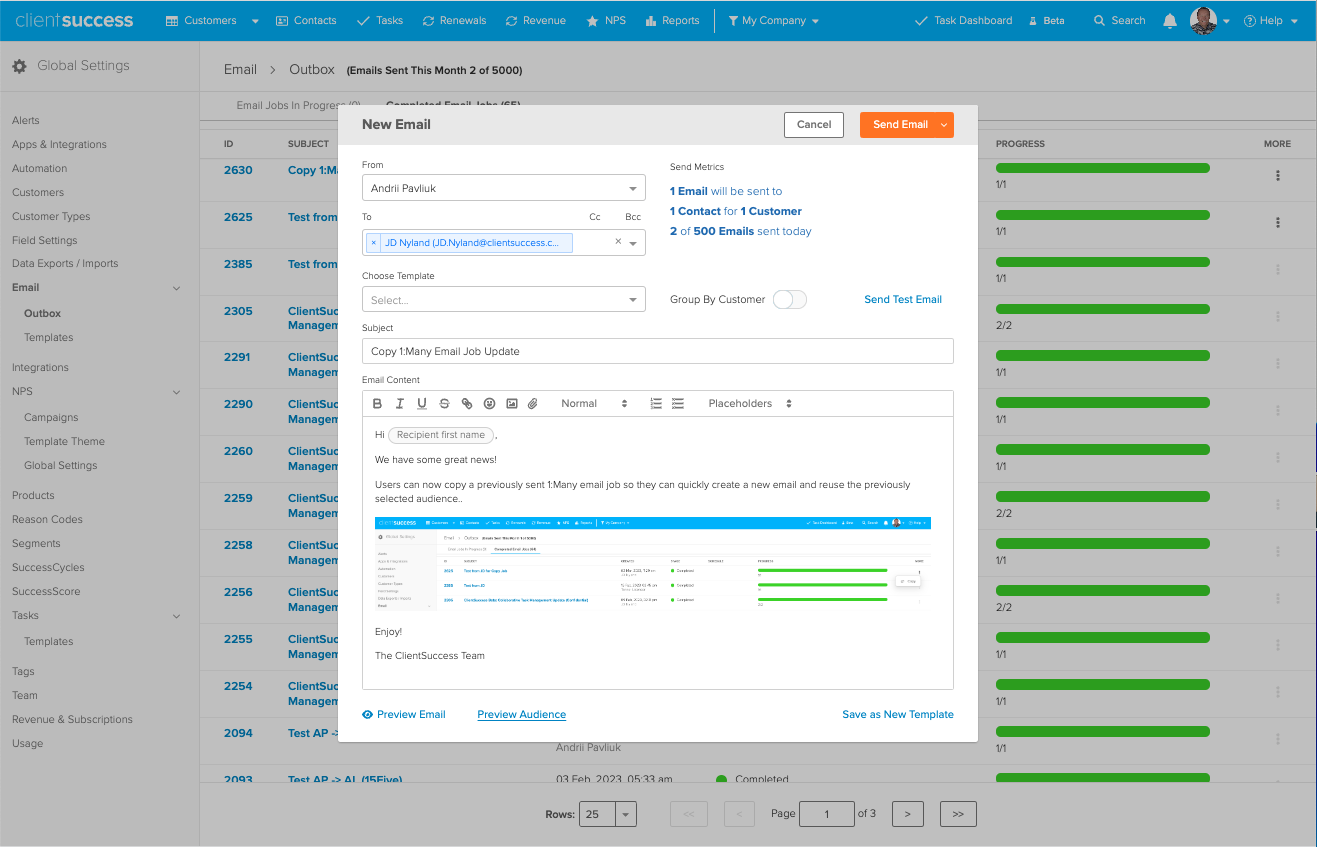 Once you have sent the copied email job, It will be displayed in the "Email Jobs In Progress" tab for processing and send.

Daily Send Limits
To keep your email sending habits health, ClientSuccess allows for a maximum of 500 emails sent per day per customer. As a Best Practice Tip, we would recommend that you limit 1:Many emails to 250 per day to leave room for follow-up, administrative, and personal messages outside of ClientSuccess... especially if your using a "Trial" email account from Google Workspace that only allows for a total of 500 emails per day.
If any team member selects a large number of messages that is over thee daily quota, a warning message will appear that the number of sends is over the limit and the remaining emails will be sent out the next day without going over the email limit.

For additional details on daily limits or pricing information, please contact your CSM.
Enjoy using these new capabilities that will help you scale your CSM organization. For questions or more information, please contact our support organization at support@clientsuccess.com.