Intercom Integration
Pre-reqs
Our Intercom integration must be installed via the Intercom OAuth approval process. Please confirm that the user completing the process has the permissions required to install Intercom apps (typically an Admin).
Things to Know
Support tickets will show all tickets assigned to the Company in Intercom - regardless of whether there is a Contact in CS
Support tickets view will show historical data
Engagements will only show Conversations that happened within Intercom where one of the participants was a Contact on the Client record in ClientSuccess
Engagements will count toward last touch and last engage for the Contact
Engagements will only be as recent as the integration is activated
How to Get Started
1. Browse the integration hub library in your Global Settings to configure the integration. Find the Intercom integration and click on the "Integrations Settings" gear for configuration.

2. Select Connect. This will open the Intercom authentication process. A user with permissions in Intercom to add integrations (typically an Admin) must complete this step.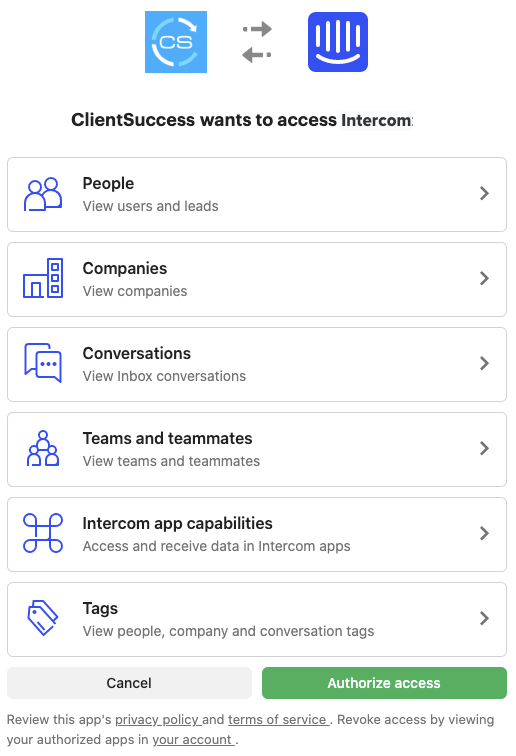 3. Within the Intercom authentication step, confirm the workspace and approve the integration by selecting "Authorize Access".
Please Note - If your account does not have the required permissions you will see an error stating there was a problem authenticating your account. Please confirm that the user account completing the process has the permissions required to install Intercom apps (typically an Admin).
4. After successfully authenticating you'll be able to turn in the Integration Sync in the Integration Settings, and the integration will then be activated immediately.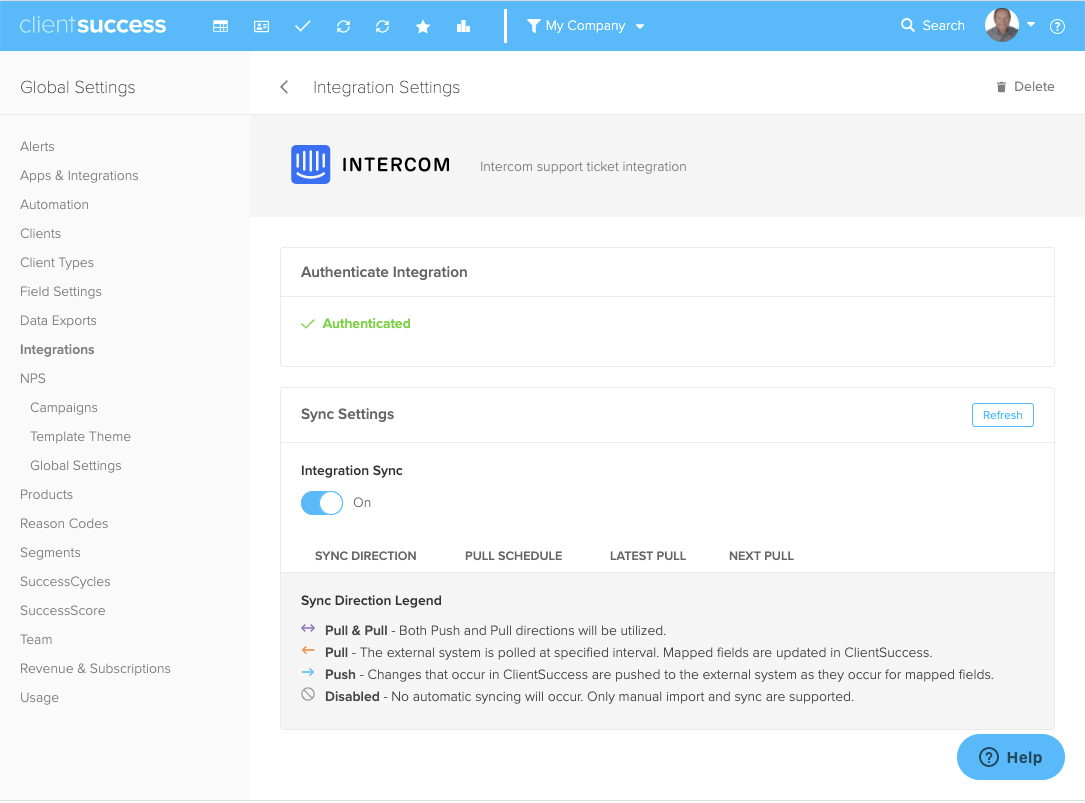 5. Check the Engagements App to see if the conversations are now flowing in.
Please Note - the outbound Intercom messages will not automatically flow into ClientSuccess until the user responds to the message. (This is how the Intercom API functions as designed.) Intercom conversations will now be displayed in the engagement app and will have the Intercom icon next to each conversation. The details of the conversation will be displayed in the right payne of the application with its associated date and time.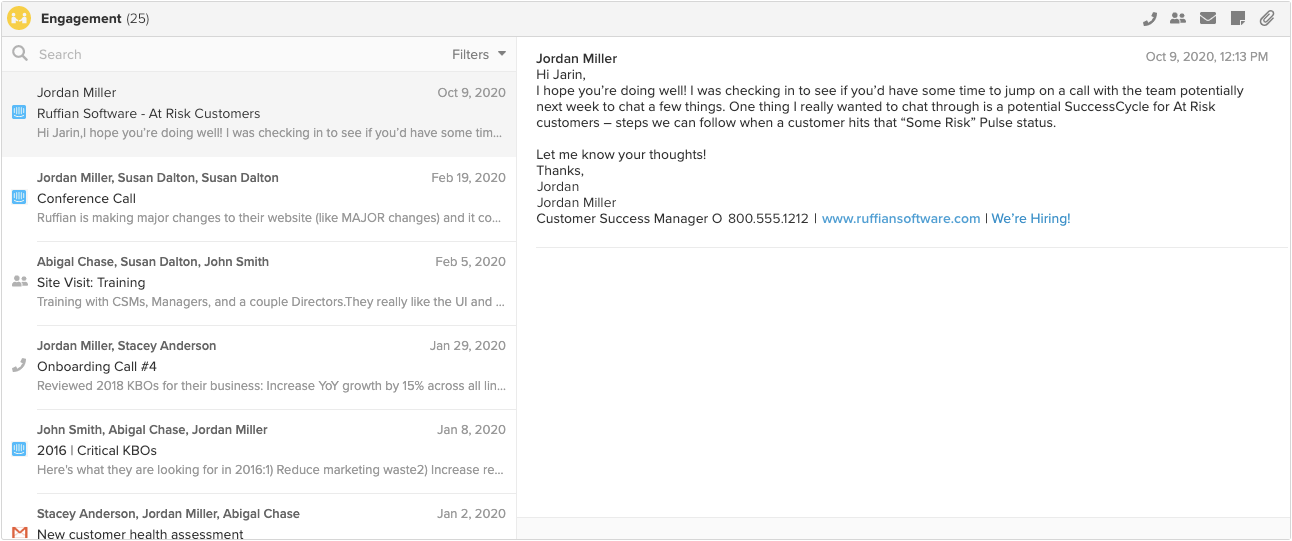 6. If you'd like the conversations to also show up in our Support App, be sure to toggle that on under Global Settings > Apps & Integrations > ClientSuccess Apps > Support View.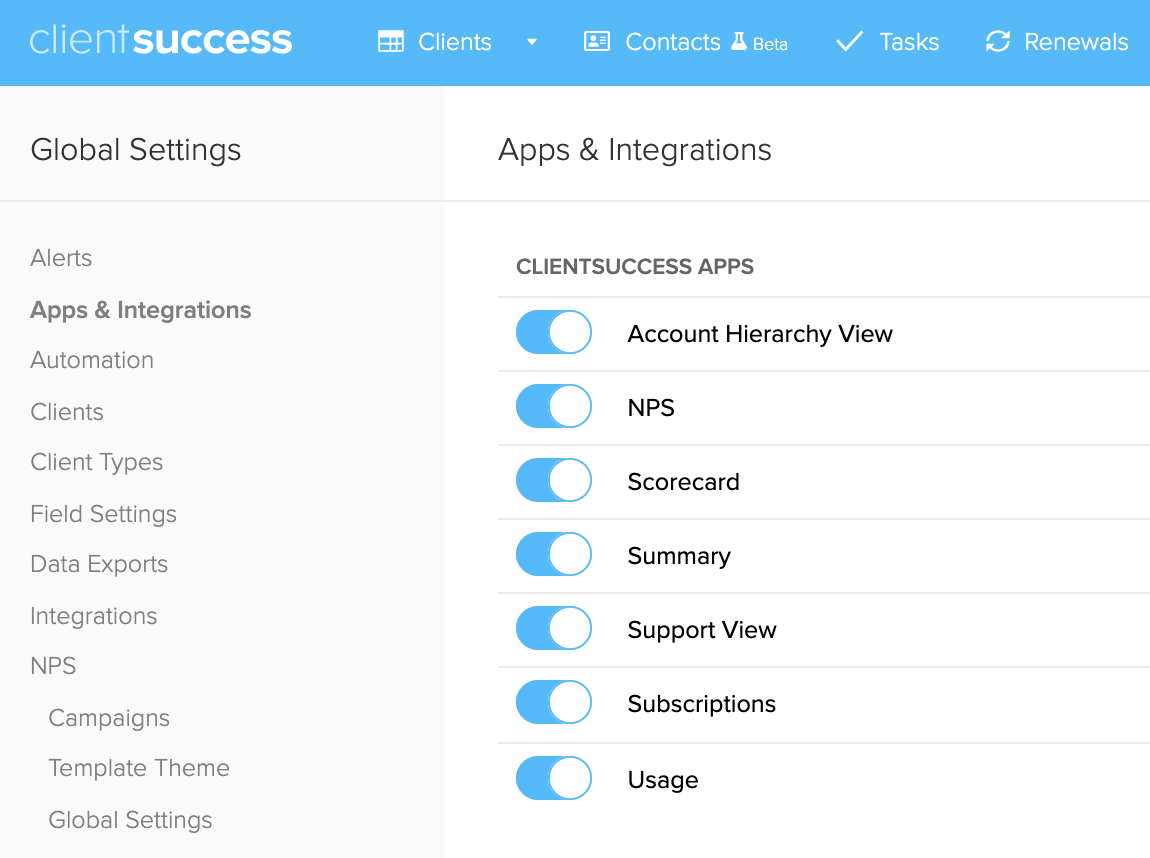 7. Check the Support Ticket App to see if the support conversations are flowing into the app. Support conversations will have a Subject, Status, Priority, as well as the last updated to the conversation and when it opened. The Assigned To which is typically the CSM will also be displayed for context.
Please Note - Users will have to click on the Intercom tab to see the conversations that link back to Intercom.

FAQ
Why aren't my engagements appearing in ClientSuccess?

Make sure the app is Authenticated and the Sync is Enabled. After confirming these items please check the Engagement App in the Client view to see if any engagement messages are present.
© 2020 ClientSuccess Privacy policy Terms of Service