We are excited to share 2 new Engagement reports: CSM Engagement and Customer Engagement.
CSM Engagement Report
The CSM Engagement Report is designed to help you understand where the team is spending their time engaging with customers. CSM's can easily see how many emails, calls, meetings and chats they have completed with each customer, and the number of engagements per client for context. You can also drill-in on each CSM's engagements by clicking on the CSM to get a detailed view of which customers are being engaged with and how often.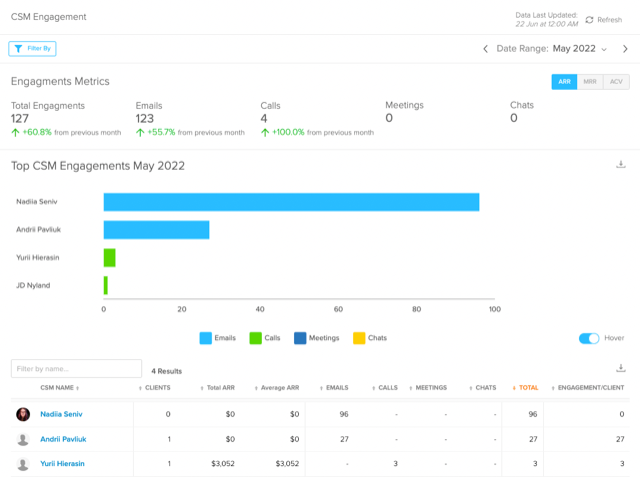 Customer Engagement Report
The Customer Engagement Report is a different view into the same data displaying which customers have been recently engaged with the most. This view gives the CSM a quick way to see which customers they are spending the most time with so they can balance or optimize that time with the right customers in their book of business.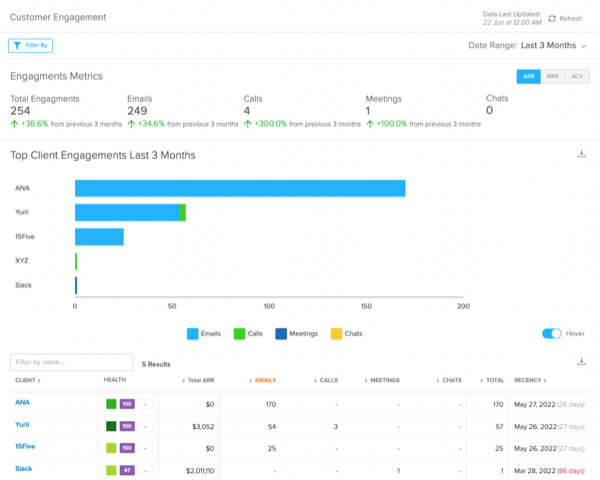 The Customer Engagement Report also includes a "Recency" metric that displays the date when the customer was engaged with last and how many days ago the last engagement happened. Customers who haven't been engaged with for over 30 days will be highlighted in red to draw attention to those customers who you may need to reach out to next.
Engagement Tags
Tags can now be added to Engagements so you can apply a layer of context or taxonomy that aligns to your business. Tags can easily be added in the Engagement App as users are creating their engagements.

Note: Tags can be added in-line in the message body by typing the #"tag name" as well as including contacts by typing the "@" sign to pull up a list of selectable contacts to be inserted in the message. (Not shown in the graphic above)


Tags can also be seeded by ClientSuccess Admins from within the Global Settings in the Tags settings page. On this page Tags can be added so they automatically show up as selectable tags in the Engagement App.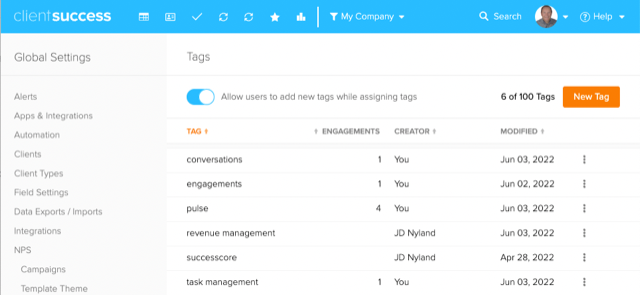 Admins also have the ability to NOT allow users to create their own tags in the Engagement App by turning off the toggle to "Allow users to add new tags while assigning tags.".
Note: The "Allow users to add new tags while assigning tags" setting is OFF by default and your CS Admin will need to toggle it on to enable Tag creation on the fly for all users. Notice that Tags are created by default in lowercase for cleanness in tagging presentation and structure.
Tag Filters
Tags can also be set as a filter in the new Engagement Reports so you can drill-in to find new reporting insights based on individual or multiple tags. One or more tags can bel selected as a filter so you can find the exact insights you are looking for in the Engagement Reports.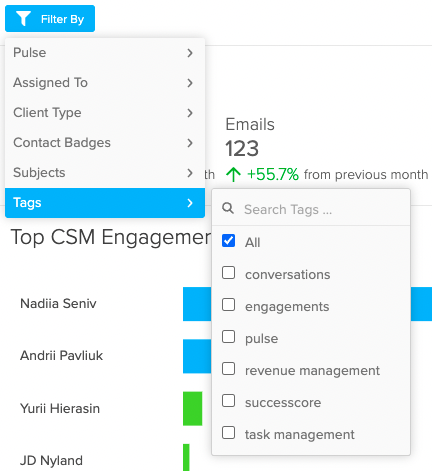 Note: The filter also has a search if you need to search for a Tag that you may not be familiar with.
We hope you enjoy these new Engagement Reports and supporting features. Both of these new reports can be found in the Reporting Section under Engagements in the left nav of the ClientSuccess platform. Please reach out to your CSM's with any questions on how to use the new reports or tags.