Our native NPS solution is a powerful tool that can help streamline and standardize your customer feedback process.
NPS Built Right Into Your CS Platform / Consolidated Data
While traditional NPS gives you a broad view of your customer's feedback, our NPS allows you to dig deeper by pairing NPS surveys and scores with other ClientSuccess data. This gives you clear visibility into customer sentiment at all levels - from the front line to the executive sponsor.

ClientSuccess NPS - Client View
Rich Reporting
Gain valuable insights about your promoters, passives, and detractors at each level of your customer's organization with an intelligent view of where you need to focus and what you need to do to help your customers be successful.
Customized NPS "Thank You" Messages
Ask your promoters to give you reviews or ask detractors what you could do to improve. Then take action on their feedback.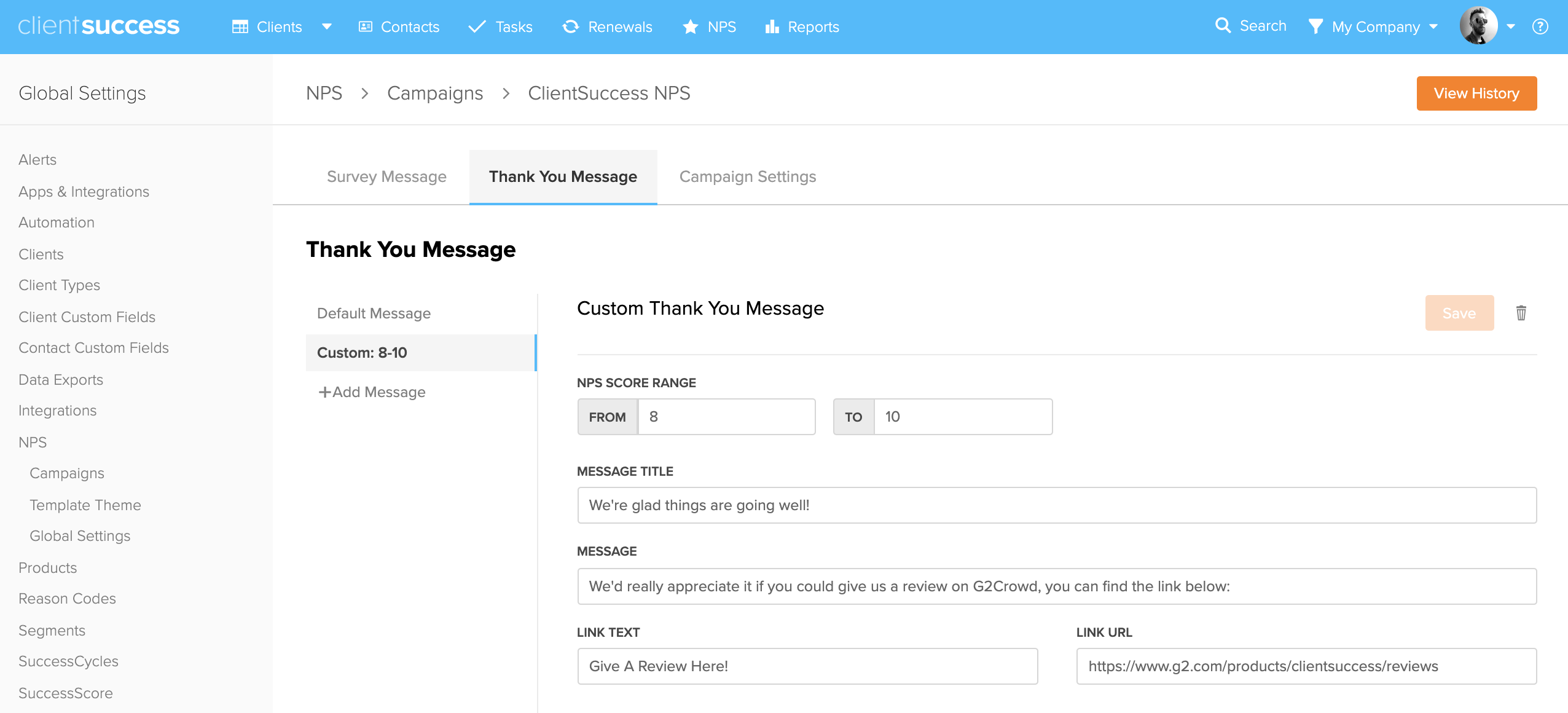 NPS integration with Slack and Microsoft Teams
Give your entire company immediate insights into NPS responses in real-time to facilitate seamless internal collaboration and quickly close the loop with customers.
Various Send Methods


Utilize Automation triggers to run tailored campaigns and send NPS surveys after an onboarding period, before renewal, or at other key moments
Send NPS surveys directly to contacts listed in the Contact App

NPS Reminder Emails
Improve response rates by sending reminders to those who haven't completed a survey to give them a little extra nudge.
Unsubscribe Link
Respondents can unsubscribe from receiving future surveys
Send Metrics
Track contact response metrics:

Sent - email has been sent to contact

Open - email has been opened at least once

Clicked - NPS survey has been clicked on from the email message

Viewed - NPS survey has been viewed on the website

Skipped - number of emails skipped due to NPS rules set in ClientSuccess

Bounced -

number

of emails that could not be delivered to the email address sent to

Opted Out - number of contacts who responded with "Opt-out" option to the NPS survey.
How to Get Started
ClientSuccess NPS sends the survey from the address of noreply@e.clientsuccess.com. This is not a customizable domain.
Step 1: The first step is for the Admin and/or Manager to go to Global Settings > NPS > Template Theme and customize the NPS survey theme. This is where you'll be able to upload your company logo and adjust the color scheme to match your own! NPS surveys powered by ClientSuccess will look like they're coming directly from your company.
Step 2: Next, as an optional step you can ensure your Advanced NPS Global Settings are configured appropriately. Keep in mind that each individual campaign will be able to have their own, unique settings. See Step 6 for additional information.
Please note is a common practice to simply utilize each individual campaign's NPS settings.
Step 3: Once your campaign theme is set, you're ready to create your NPS campaign(s)! The number of available campaigns is not limited but will be set to a reasonable amount pending the the number of NPS surveys you purchased. Please see your CSM if you have additional questions.
Campaigns are managed under Global Settings > NPS > Campaigns, and essentially act as the type of NPS survey you want to send.
For example, you could create situational surveys such as one for post-onboarding or another for COVID-19. You can also utilize a campaign to import historical NPS data from a previously used tool such as Delighted.
Step 4: After you've created a campaign, you need configure your survey message. Keep in mind that NPS is specific metric commonly used to measure and track customer loyalty and perception based on one question: How likely are you to recommend [Organization X/Product Y/Service Z] to a friend or colleague?
Be sure to hit "Save" as you make changes!
Step 5: As part of ClientSuccess' NPS you're able to solicit additional feedback from your customers via "Thank You Message".
While there's a default message for NPS responses, you're able to customize additional messages for specific NPS responses; for example, you can have send a targeted message to your promoters (9s and 10s) asking for an online review.
Be sure to hit "Save" as you make changes!
Step 6: As mentioned previously in Step 2, you can manage an individual NPS campaigns' settings. This includes how frequently a campaign may be sent to a contact, as well as exclusions for specific domains or email addresses.
You can also set rules for reminding your contacts to complete the NPS survey.
Be sure to hit "Save" as you make changes!
Step 7: If you're on Slack or Microsoft Teams, you'll be able to have new NPS responses be sent to a selected channel.
Step 8: That's it for configuring your NPS! Next thing you'll want to decide is how you'll send out your surveys. You'll have a couple of different options: