Configuration

Define Your Pulse Scale
When it comes to ClientSuccess' six-point satisfaction scale, it's important to have some general internal guidelines for customer success managers as they determine customer health. Guidelines create organization-wide consistency on the health of its customers. In this case, it helps if customer success teams sit down and determine which metrics they want to have as the standard for health.
**What we recommend**
Our six-point scale ranges from "Extremely Satisfied" to "Severe Risk". Below you'll find an example of what could be taken into consideration as teams create pulse guidelines. There is latitude for each company to determine the detailed definition of each status, but it's the exercise around customer health consistency that really matters.
Here are a few examples to help get your "Pulse Levels" thoughts flowing:
Example 1
Example 2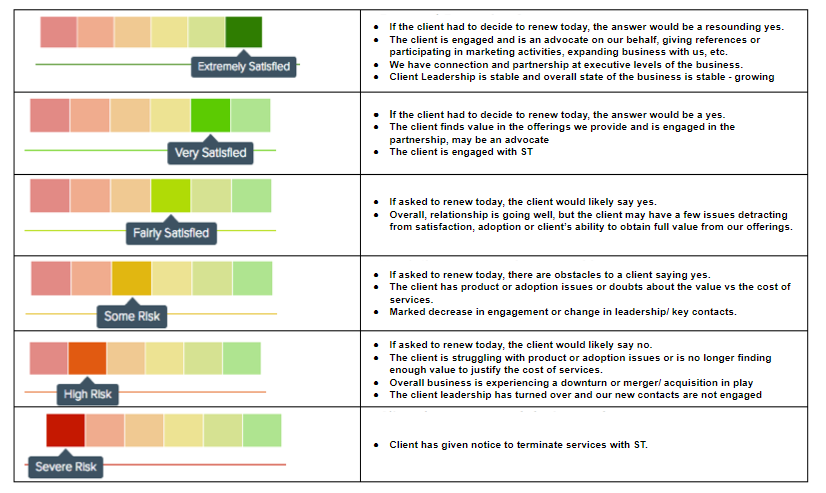 Here is an idea for an FAQ you might provide to your CS team to add even more clarity as you set the cultural expectation around setting the customers Pulse:

To download a template for the above Pulse Scale Definition, that also includes some sample Reason Codes for your planning, click here .
Reason Codes
Pulse reason codes provide insight into both risk factors and success factors across your customer base. ClientSuccess includes a default library of 51 Pulse reason codes and covers categories from Features and Functionality to Competitive Threat to Business Viability.
While reason codes cannot be deleted once they are assigned to a customer account, you can mark those no longer needed as "inactive" so-as to protect your historical data, but keep clean your list of reason codes.
You may want to edit and repurpose the default codes at both the category and/or reason code levels, or even remove those you do not anticipate using. Customizing the list of Pulse reason codes to align to your business terminology and use cases will make them more valuable in your daily use and reporting.
A key consideration when defining Pulse reason codes is the number of categories and reason codes you use. Consider the balance of your reason codes to provide actionable insights and trending on both risks and success, while not having too many Pulse reason codes. If your list becomes too long, the insights can be diluted and the list difficult to manage.
A range of 40-60 reason codes for Pulse is generally a healthy number.
ClientSuccess also allows you to attach up to 3 risk factors AND 3 success factors when marking any degree of pulse.
Note: there are also tabs for "Downsell" and "Termination" (or Churn) reason codes. The same recommendations apply to customize those risk reason codes as well.
**What we recommend**
When defining reason codes, take an outside-in approach from a customer journey/experience perspective to provide meaningful insights for your organization. Cover different departments (ie Sales, Product, Customer Success, Support, etc.), along with 3-4 relevant risk factors.

Pulse Alerts
1. Under Global Settings > Alerts, you're able to manage the alerts that new users to your team will receive about the clients they manage or tasks assigned to them. You can specify which alerts you want and the condition that will trigger them.
2. Under My Settings > Alert Preferences, you'll be able to edit your personal preferences, as well as enable daily and real-time alerts. For Pulse, the daily alert notifies you, your manager, and executives when a client's pulse hasn't changed in xx days. The real-time alert notifies those same individuals when a client's pulse is set to xx or below.
**What we recommend**
Depending on how frequently you engage with clients, you'll likely already have an idea in place for this alert. At ClientSuccess, we have an alert set to remind us when Pulse hasn't been set in 21 days, and when pulse is set to "Some Risk" or below. This reminds and gives us the opportunity to look at the relationship we're forming with clients. If a client is "Very Satisfied", are they still "Very Satisfied" 21 days later? Do I need to step in and continue to advocate for them? Is there additional value I can bring to the relationship? It's also beneficial for your manager and executives to be notified when a client's pulse has been marked to "Some Risk" or below. This flag works to prevent surprises later down the road.

Execution
An Honest Health Value is Better than a High Health Value
**What we recommend**
It's important to establish a customer success culture of honesty, as an honest customer health value helps the customer success manager and team take proper action to improve relationships. Not being honest on both ends of the health spectrum misrepresents the actual health of a client and can lead to fighting fires or churn.

Notes in Pulse-Setting
When setting a pulse value, you can include any relevant notes or updates (either in-line from the client screen or at the client level). This serves as an opportunity to add the criteria your team identified when defining each pulse value.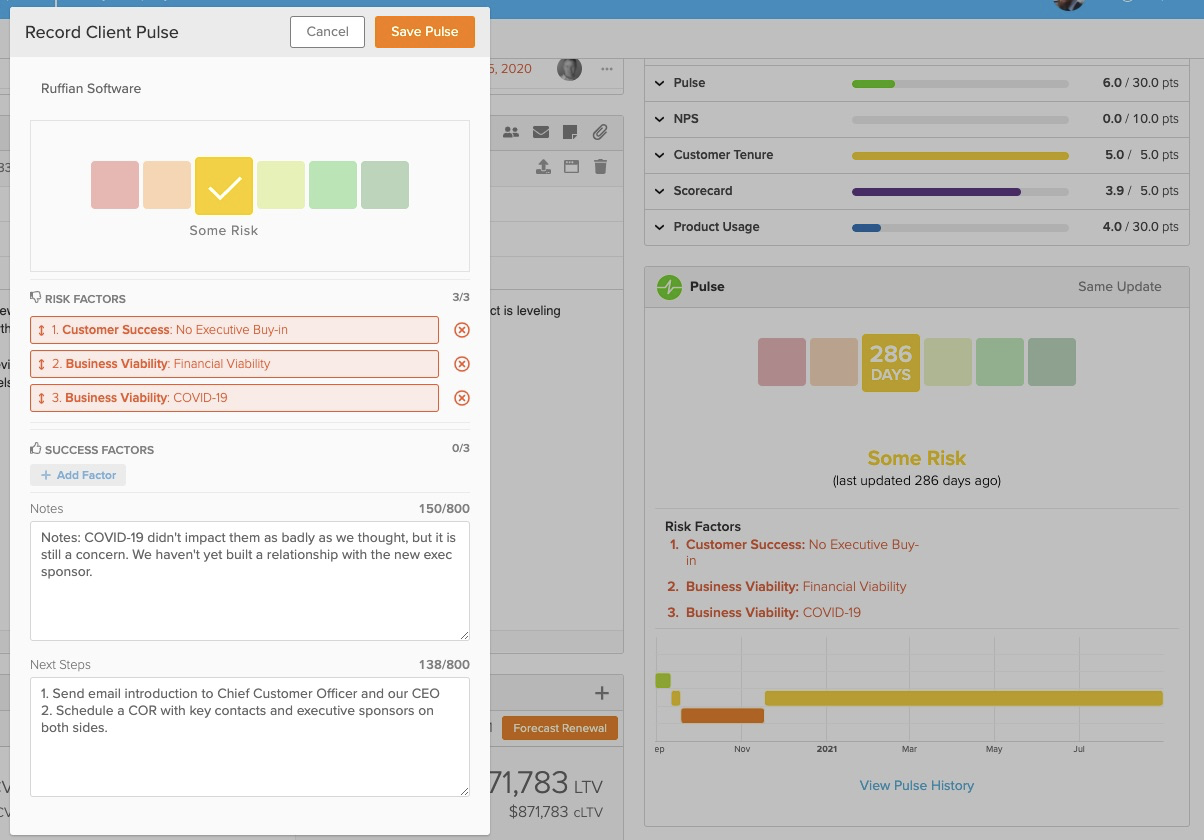 **What we recommend**
If you've defined your Pulse values, include some of those points in your notes. If you still need to complete this internal configuration step, perhaps now is a good time to establish consistency for you and your team.

Holistic Customer Health Follows a Bell-Shaped Curve
A holistic view of customer health typically follows a bell-shape curve. Most customer health values fall between "High Risk" and "Very Satisfied", and the majority of your clients will be in this range on the bell-shaped curve.
**What we recommend**
Only the best clients (executive sponsor, proven ROI, case studies, etc.) should be marked as "Extremely Satisfied", while only the clients that have reached out to cancel a contract or are very likely to churn should be marked as "Severe Risk".

Additional Resources