ClientSuccess Goals is an impactful way to collaborate with your customers to help them achieve their key goals and objectives. Whether you call them goals, desired outcomes, key business objectives, or success criteria, you now have the ability within ClientSuccess to capture goals, track progress, and complete goals in a very transparent, collaborative, and transformative way with your customers.

Key features include:
Top Goals for each of your customers and track the progress of each goal from conception to completion

Easily monitor the status of each Goal at a glance for to ensure you're on pace and on track

Define various types of Goals and the period for each goal

Designate an owner for each Goal and capture updates and comments along the path to completion

Share visibility of the Goal app with your customers to collaborate and complete Goals in a transparent way

Detailed insights and reporting at both the customer level as well as a global view across all customers
Other features:
Goal Types

- leverage different Goal Types depending on the nature of the Goal

Quantitative Goals

- can be created with Targets and Actuals to help you easily manage to Goal completion

Qualitative Goals

- give you the flexibility to create a variety of goals that aren't quantitative in nature

Custom Goals

- are quantitative goals that are linked to a client or custom field within ClientSuccess so the progress can be automatically updated.

Primary Goals

-

designate your top 3 Goals for any customers to prioritize accordingly and have a deeper level of visibility on the Client Grid for those goals.

SuccessScore Integration -

link Goals to your SuccessScore recipes to monitor how Goal performance impacts customer health.

Stages -

help you track Goals across every stage so you know exactly where you are at in the process. Stages can be customized to fit your business nomenclature and needs.

Progress Bar

- gives you instant updates on progress and status if the Goal is On Track, Behind, or in a Critical status.
Goal Details
Click into the Goal Details to see everything about the Goal and make updates any time you need. Actuals, Period, Stage and Progress can be updated easily and Comments can be added about the goal can be left each step of the way to completion.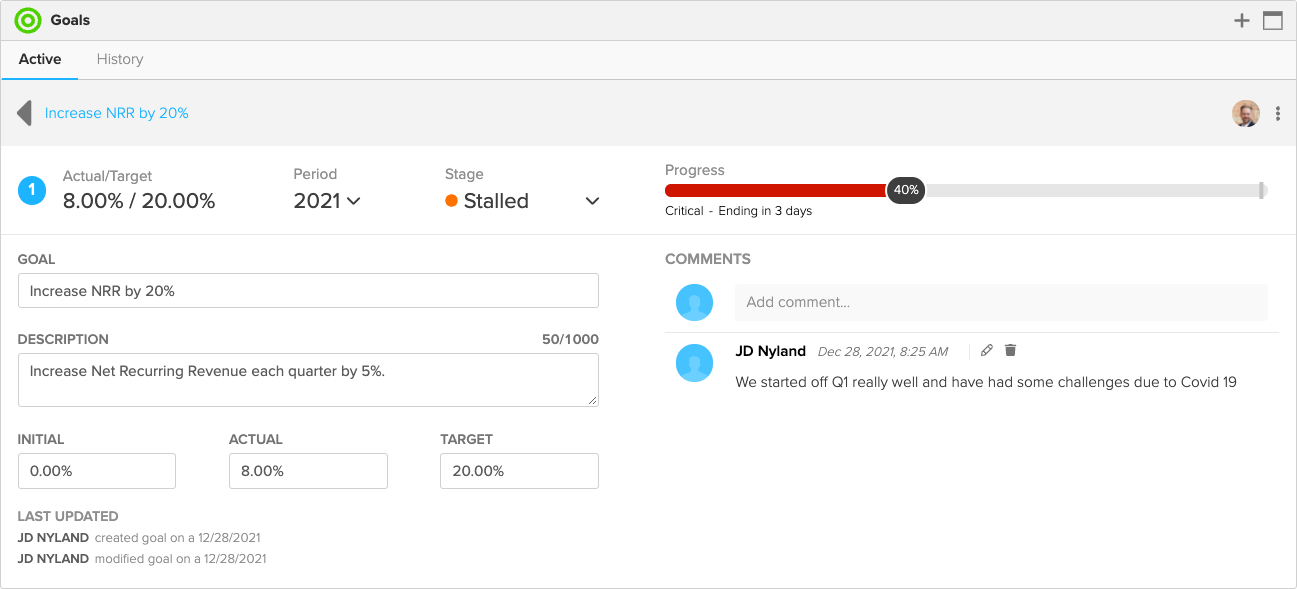 Update goal

Stage

through each phase of the project for total transparency. Goal stages can be customized to your business needs.

Quickly update the

Progress

with the slider for up-to-date information, or let it be automatically updated through an automated custom field.

Comment

on goals every step of the way to share context and history Goal progress and completion

Know when the goal was

Last Updated

to monitor who updated the Goal, and when.
Goal History
View a complete history of each customer's Goals to understand which Goals were complete, incomplete, or canceled.

The Goal History screen allows you to see insights on historical comments to have important historical context for each Goal.
Goal Views on the Grid
View the primary goals for each customers on the Client Grid for quick understanding of Goal status and progress, and utilize the Goal Summary for a quick view of the current Stage and Progress.

Modify stage and percentage complete in-line to save you hours on updates, and compare how your goals are progressing across customers.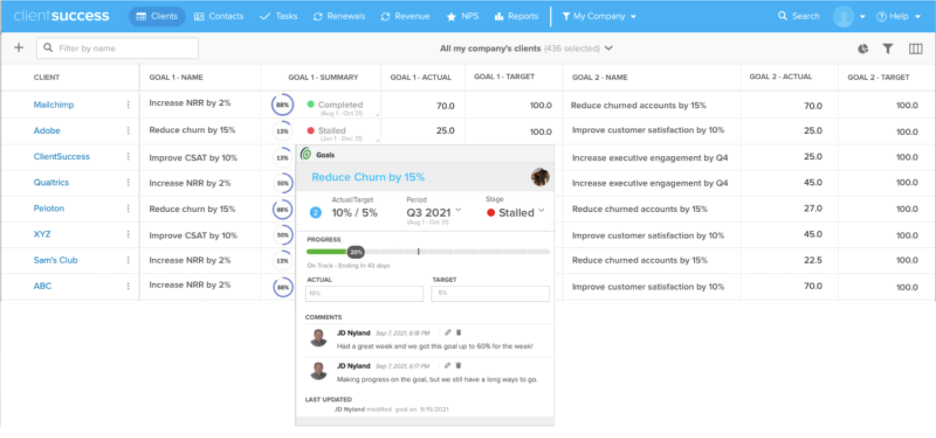 Filter on name, actuals and stage to see which goals are in motion and which ones you need to focus on.
Goal App Pop-up
Share your goals and their progress with your customers in weekly or quarterly meetings for total transparency.

Primary Goals - can be designated as a direct input to SuccessScore to more effectively measure and manage the success of your customers
Custom Field Integration
Link to Custom Fields within ClientSuccess to automatically populate and update Goal Targets, Actuals and progress throughout the period so you can operate with a "hands free" approach. Progress will automatically get updated so you can literally watch the progress bar move.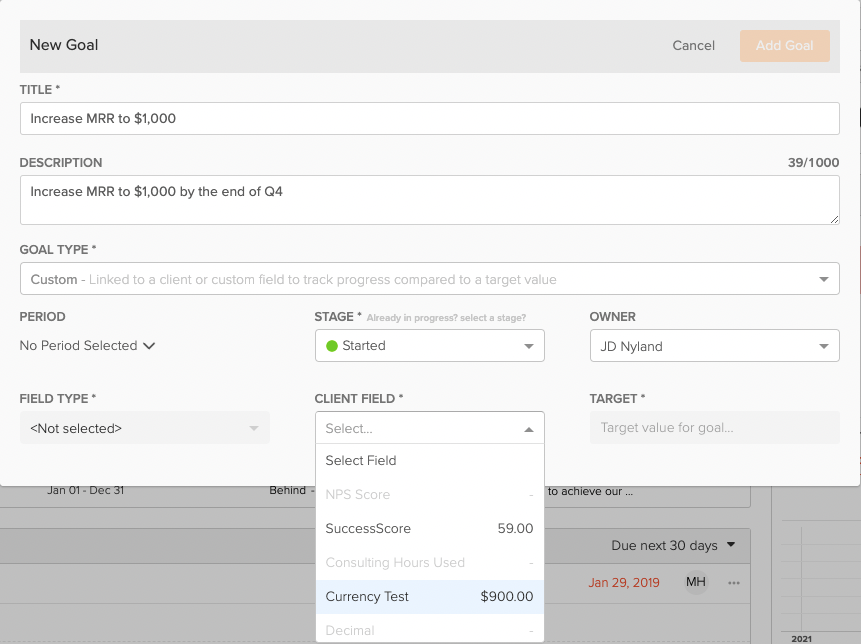 Note: Custom fields must have at least one value in them before they will be selectable in the drop down list. In the example above, only "SuccessScore" and "Currency Test" have values and are selectable as options.
SuccessScore Integration
There are two ways that Goals can integrate with the SuccessScore.
1. Goals can be updated via the SuccessScore by using the Custom Goal Type and selecting SuccessSore. The SuccessScore value will be automatically updated in goal when the metric changes.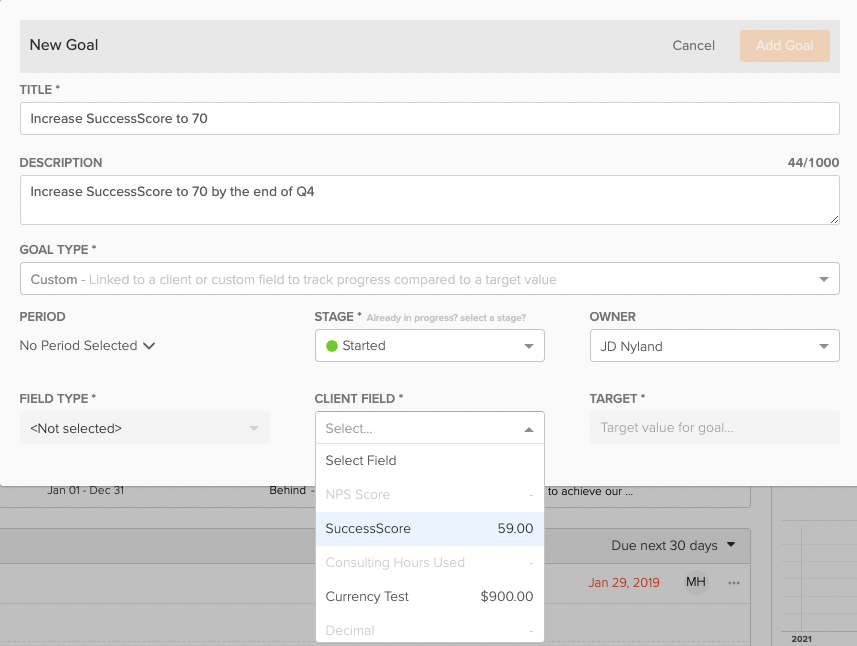 2. The SuccessScore Integration can also link Goals to your SuccessScore recipes to monitor how Goal performance impacts customer health. The SuccessScore can be impacted by designating 1 to 3 Primary Goals which will automatically enable those 3 goals to be visible in the SuccessScore configuration. To choose a Primary goal, select the circle next to the goal and choose 1, 2, or 3 to set the Primary Goal status.

Then go into the Global Settings > SuccessScore settings to configure a SuccessScore recipe that utilizes one of these goal metrics selections:


Goal metrics selections include Goal Count, Goals Active, Goals Completed, Goals Inactive, as well as the following for all three Goals that are set to Primary Goals: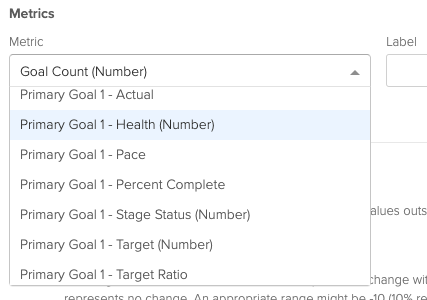 For more details on how to setup metrics recipes and groups for SuccessScore, please see the SuccessScore Knowledge Base Articles.
Goal Reports
New Goal reports give global visibility and insights into how your customer Goals are performing and highlights areas of concern and success.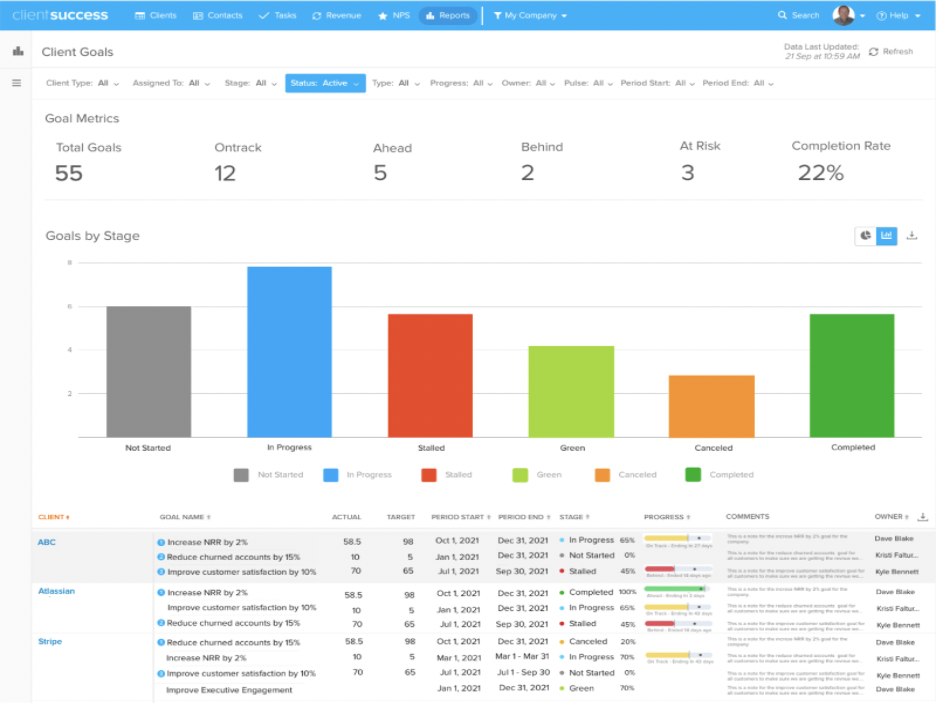 Filter by multiple attributes to find the exact insights you are looking for and leverage the graph legend filtering to turn metrics on and off to visualize the story you want to share.
Goal Stages Setup and Configuration
The Goal Stages setup and configuration can be found in the Global Settings/Field Settings/Goals Tab.

Goal Stages can be customized for each customer's tenant to align with their unique internal processes. Defaults for Labels, Starting Percent, and Stage Color can be set for each Goal Stage.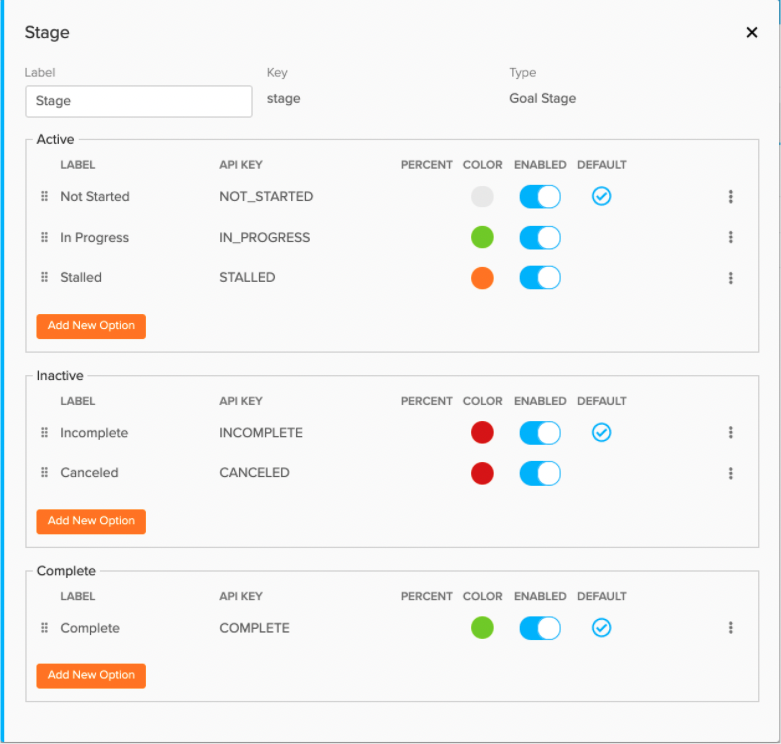 Stages can easily be re-ordered via drag-n-drop in which ordering will be reflected in the Stage selection drop-down and in the Goal reporting.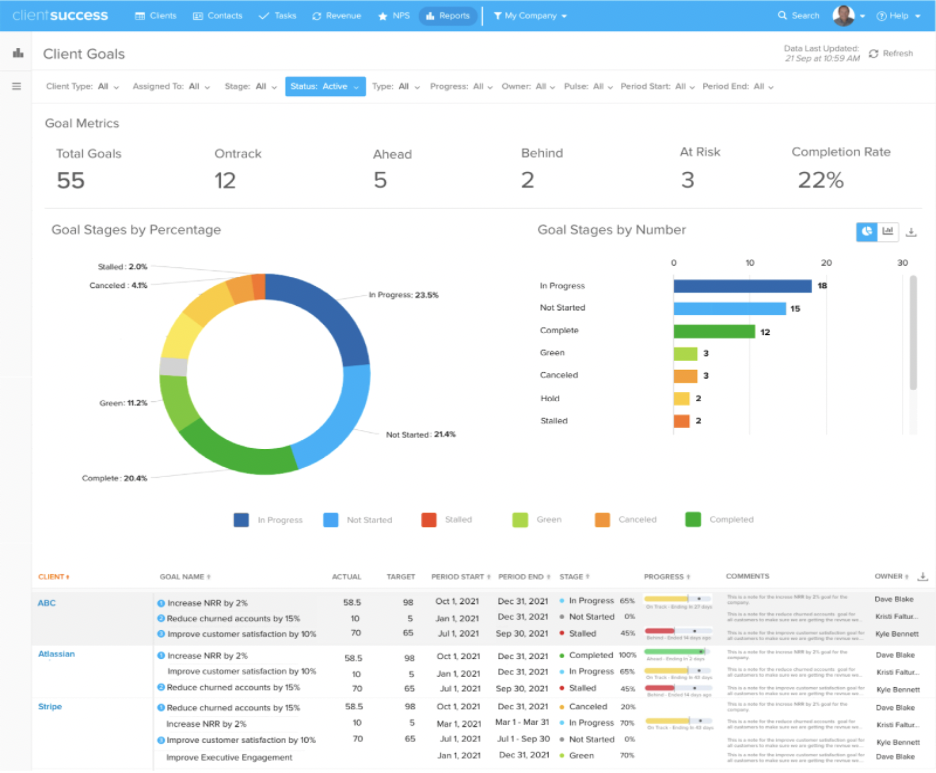 Quickly see how many goals are in each stage across all customers so you know where to focus your time. Sort by multiple columns to compare goals across customers and tell the story you need. Drill into the graph for more context on "Goal Stages by Owner" to get insight into how each CSM's customer goals are performing.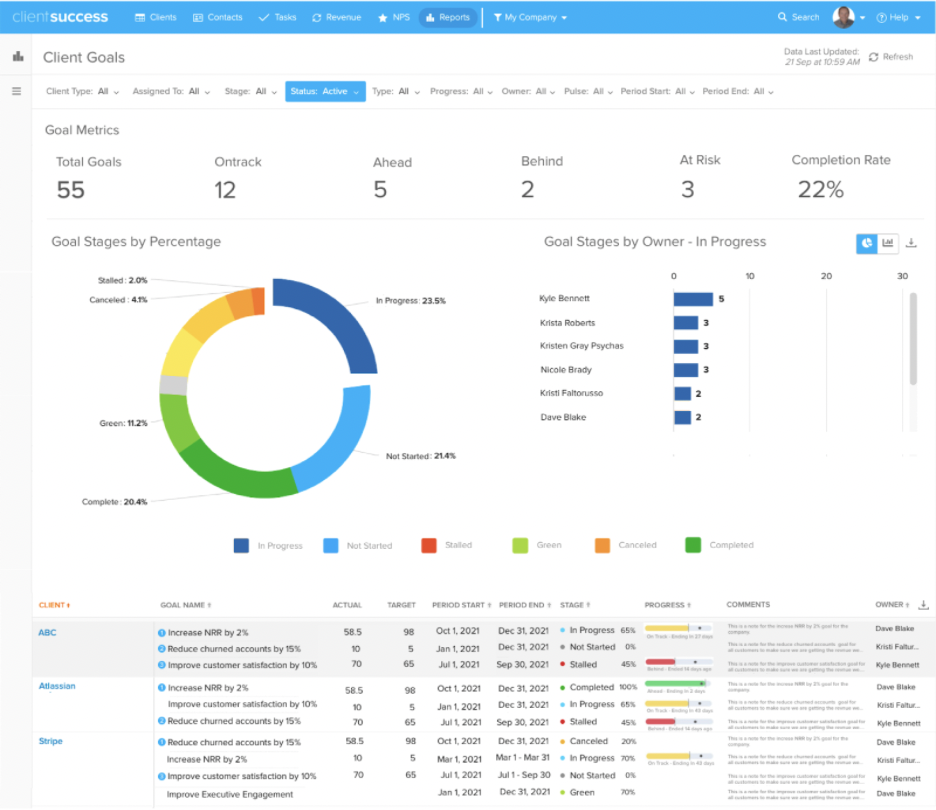 Exporting goals from the system is also available for offline analysis or in BI tools. The Goals export for all clients can be found in the Global Settings>Data Exports/Imports. Select the Create Export button and then configure the Goals Export as seen below. Once you fill in the name and choose the goals export template, select the "Generate Export" button and the export will then be processed.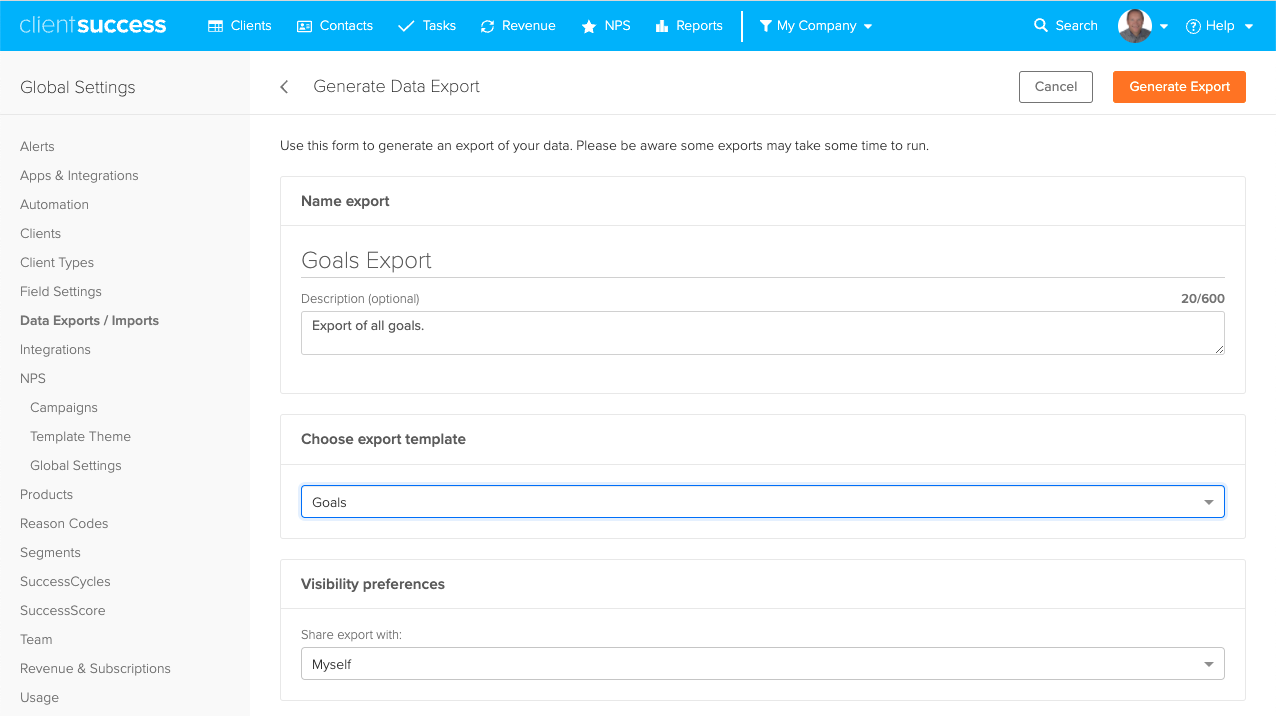 We can't wait to see what valuable goals you come up with to help your customers be more successful and you continue to build a "Culture of Customer Success". Please reach out to your CSM or our Support team support@clientsuccess.com if you have any other questions.