In case you've missed other parts of our 6-part adoption newsletter miniseries be sure to check it out!
ClientSuccess' segments are a dynamic group of clients based off of one or more filters. As conditions change, clients are automatically added or removed.
Segmentation Defined
Each company might have a different use for segmentation – it could be how customers are tiered, products are sorted, or annualized recurring revenue (ARR) is distributed.
For the purpose of this article, we'll define segmentation as the ability to focus on the right customers at the right time. CSMs keep track of many customer interactions, ranging from customer health (Pulse) to various engagements. Imagine defining segmented views for "at risk" or "renewing" clients based on your own criteria. A dynamic approach to viewing your book of business opens the doors for endless possibilities, which can help you develop authentic, intelligent relationships with your customers.
Benefits to You
Clients can belong to multiple Segments at the same time. ClientSuccess comes with three pre-defined Segments: "All clients," "Renewing next 90 days," and "At risk." You can customize these by changing the filter criteria or applying new filters and save them as entirely new Segments, while admins can create global segments that are available to all users.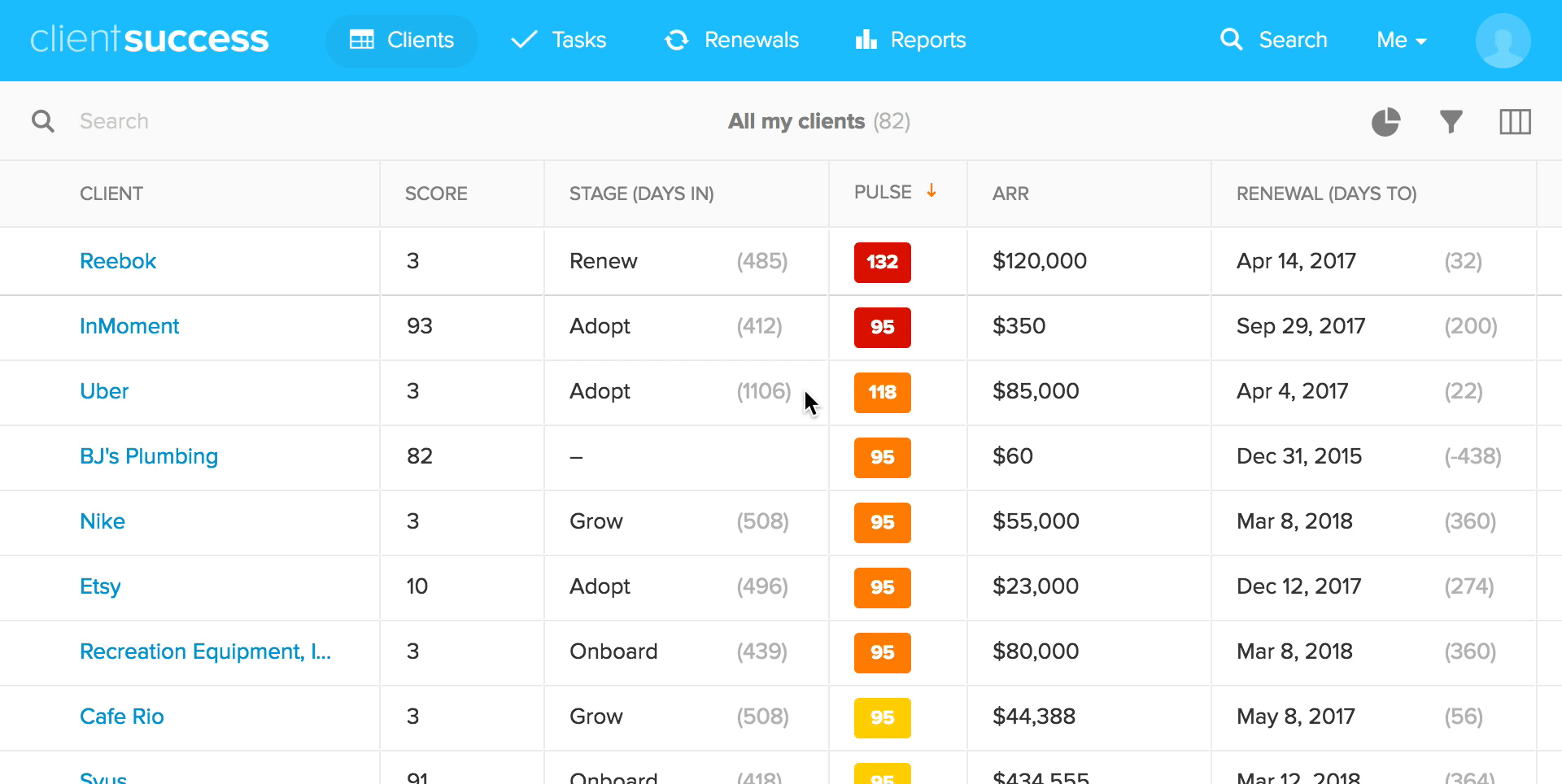 Getting Started
Segments are created from the Clients Screen and can be configured on a number of criteria.
Users with "Admin" and/or "Manager" roles in ClientSuccess are able to configure global segments and then manage them under Global Settings > Segments.
Other users are able to configure their own segments and then manage them under My Settings > Segments.
User Training Webinar
In this webinar, you'll learn:
...and more.
What's Next?
We'd encourage each leader to create at least one segment for their team. Consider "Pulse Set is greater than 30 days ago" and put 30 minutes on everyone's calendar at the end of the week to follow-up with these customers.
At an individual level, perhaps it would work well to review "Pulse equals Some, High, and Severe Risk" in combination with "Renewal is less than 90 days away" to focus your efforts on critical renewals.