Automation triggers are now available for Pulse, NPS, Calendar, Contracts Engagements and SuccessCycles.
1. Pulse - The first set of Pulse triggers are for Pulse Created and Changed.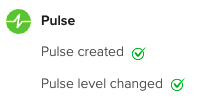 a. Pulse created - creates a trigger every time a Pulse is set.

With Pulse triggers, Pulse, Risk Factors, Success Factors and Keywords for Notes and Next Steps can all be part of the combined automation rules set. Multiple options can be selected for each rule giving you total flexibility to create some of the most powerful rules for the best automation results and insights.
b. Pulse level changed - creates a trigger when a Pulse changes from one Pulse to another.

Keywords
This is new functionality that allows you to intelligently leverage a grouped set of keywords found in the Notes and Next steps. It is fueled by text analytics processing capabilities to identify the selected keywords based on conditions in the rules, but may not include every word in the notes or next steps.
Require All
Require All is a new feature that gives you the flexibility to have the automation rules execute on one of multiple criteria, or "Require all" in order for the trigger to fire.
2. NPS Triggers - There are 4 new automation triggers for NPS Changed and Updated, Survey Received, and Score Changed.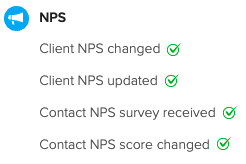 a. NPS Changed - is above or below a specific score, and by client type.

b. NPS Updated - is greater/less than or equal to a specific score and by client type.

c. Contact NPS Survey Received - is a trigger that can be configured to watch for NPS surveys from detractors, who are a Sponsor, that mention the words adoption, product , or issues in the comments.

d. Contact NPS Changed - is a trigger that can be configured to watch for NPS surveys changing from one score(s) to another score(s)

In the example above, the NPS changed from a Promoter (9,10) to Passive (7,8) by a Champion or Key Contact, and the comments contained the words adoption, turnover, or budget.
3. Calendar Trigger - based on specific date.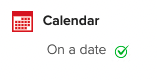 The Calendar trigger allows you to set up an automated action based on a specific date.

In the example above, the Date trigger could fire an action to send out a Happy New Year email on December 31st to all client types.
Note: The Calendar Automation Trigger is currently set by default to execute at midnight Eastern Time on the day that you select for the rule.
4. Contracts - There are 5 new triggers for Contracts using Term Start, End, Booking, and Churn dates.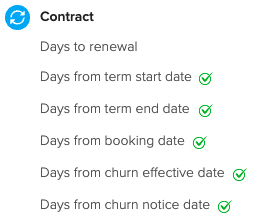 Below is an example of the "Days from booking date" trigger where you have the option to trigger an action 10 days after the Booking date, on a Renewal contract, for a specific client type, including recurring, non-recurring, churned, and un-churned contracts as configuration options.

5. Custom Fields - There are 3 new triggers for Custom Fields, including Days from custom date field, as well as Checkbox and Numeric custom field updated.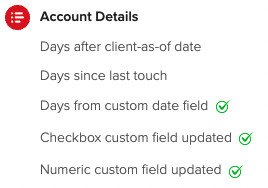 An example trigger would be when a custom field for Consulting hours used goes above 40 hours on Mid-market accounts.

6. Engagements - triggers can be configured based on Days from last touch and last engaged.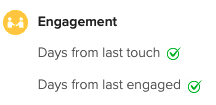 The example below is configured to fire a trigger 14 days after the last meeting or call for Enterprise clients with more than $15B in revenue.

7. SuccessCycles - The On cycle updated trigger can fire an action when a SuccessCycle is updated.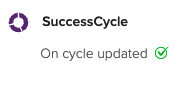 This trigger gives total flexibility to trigger an action at any level of the SuccessCycle.

If you would simply like to fire a trigger when a SuccessCycle is completed, just add the SuccessCycle and configure the status to "Completed" as show below:


We're excited to deliver these new capabilities and hope you'll find them valuable in helping your customers be automatically updated on the latest insights and actions in ClientSuccess.