Adding Custom Fields to the client record is a great way to include valuable data and additional context for your customers. Self-serve Custom Field Management now includes Delete and Reset capabilities.
To manage Custom Fields, go to Global Settings>Field Settings.

Delete Custom Fields
The ability to delete or reset custom fields has been extended to all field types. (Clients, Contacts, Contracts)

To delete a custom field, click on the actions menu to the right of the custom field and select delete. In order for a custom field to be eligible to delete it cannot be in use.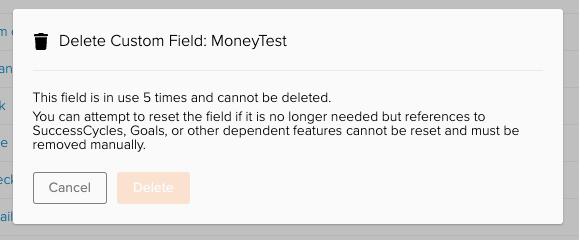 Once the data has been deleted or reset, and there are no references in the system to the custom field, then the custom field can be deleted.
Reset Custom Fields
If a custom field is in use it can be reset which will remove all the data and references in the system. (expect for Goals and SuccessScore references which cannot be unlinked)

Resetting the field only clears the data and will leave the Custom Field in the system, which is really helpful if the field is used again in the future or via the API or integration.
Note: All actions required double opt-in/confirmation to take effect, and data purged in this way is NOT recoverable. There is currently no way to disable/archive a custom field.