What are Success Factors?
Success Factors add a whole new dimension to the gathering and reporting the Pulse of your customer when evaluating health. Success Factors allow you to tell the full story of the health of the customer by including the "Positive" side of the story. Now up to 3 Success Factors can be included with every Pulse!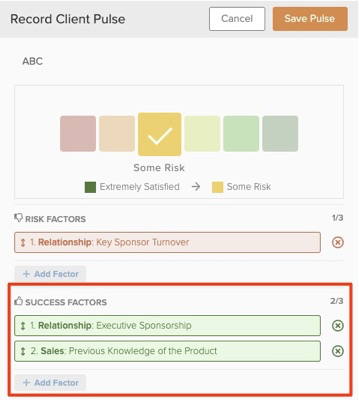 Getting Started with Success Factors
We've made it really simple for you to customize your Reason Codes library in your Global Settings. So the first thing you'll want to do is configure your Success Factor Reason Codes. Each Reason Code has a relationship with the parent category for proper classification. In the example below there are several Reason Codes that are associated with "Relationship". The Reason Code "Type" can be classified as a Risk type, Success type, or Both giving you the ability to leverage your existing Risk reasons and to give a whole new dimension of analysis.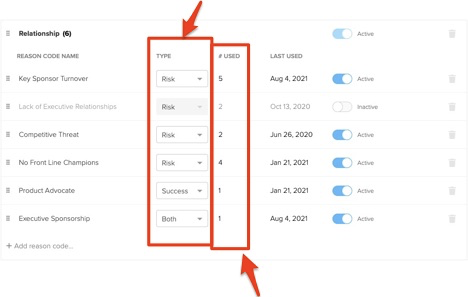 The Reason Code admin screen will also show you how many times the Reason Code has been used, when it was last used and if it's set to "Active" or not.
Adding a Reason Code
Reason codes can easily be added in the admin screen by clicking on the + Add reason code option.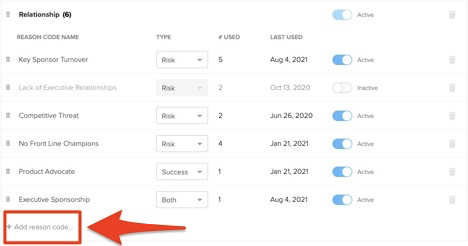 Re-ordering Reason Codes & Success Factors or Risks Factors
Reason Codes and Success Factors or Risk Factors can easily be reordered for optimal selection by dragging and dropping them in the position in the list that you want it to display.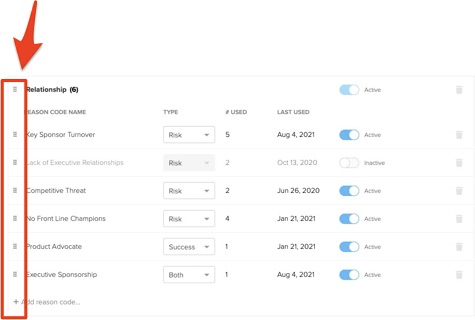 Activate/Deactivate Reason Categories & Codes to have full control over which categories & codes are available for use. Reason Codes that you wish to no longer use can be set to "Inactive" in the admin screen so they no longer show up as an option to choose in Pulse.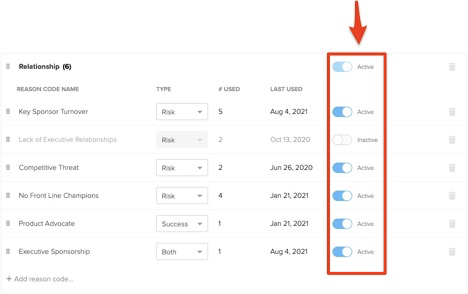 However, if the Reason Code has been used and is set to inactive, it will still show up in the reports for accurate Pulse Reporting.
Delete Reason Codes by clicking on the trash can to eliminate codes that are no longer relevant or in use.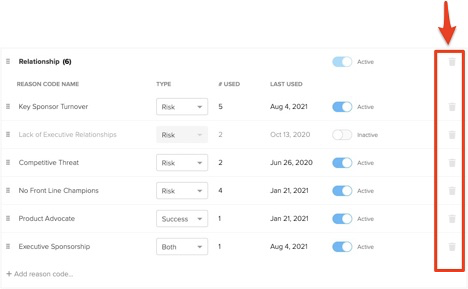 Selecting Success Factors
Once the Success Factor Reason Codes have been set up and configured, the user can set a Pulse with any combination of 3 Risk Factors and 3 Success Factors.
Drag-n-drop for Priority
Users can also Drag-n-drop them right in the Pulse App to reorder the Risk or Success Factors to show your priority for each. Users can also easily see what the previous Pulse was and what the new Pulse setting is in a single view.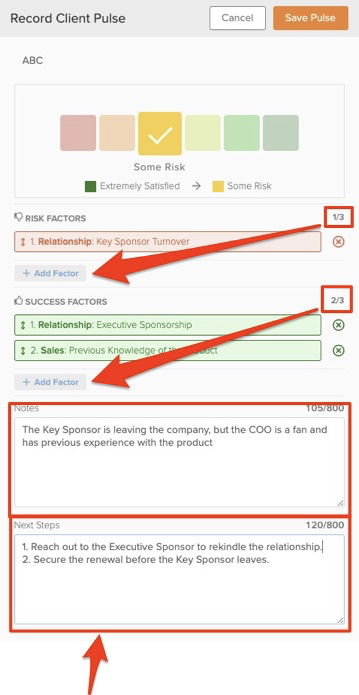 Notes & Next Steps
Notes and Next Steps can be added to give additional context when setting a customer Pulse. Each section has a limit of 800 characters which can also be viewed in the reports and synchronized to your CRM of choice. Next Steps are new so you can be sure to list what the next action items are for the Client so nothing is forgotten or falls through the cracks.
Previous to Current Pulse icons quickly display the movement in the health of your customer so you have the context of what the Pulse was changed from.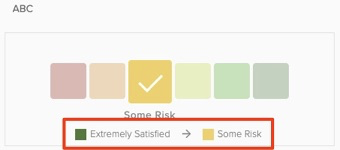 The Pulse app now displays Risk Factors & Success Factors together for a side-by-side view of the current health of your customer. Now you can see the full story of the current health of your Clients with the context of what's working, and what's not.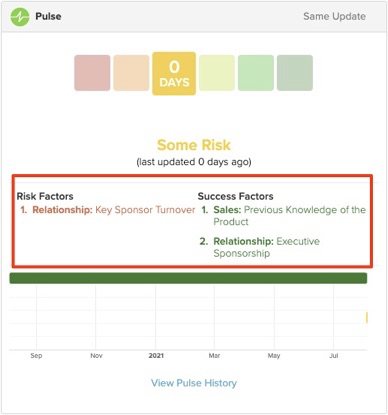 Pulse "Same Update" automatically loads the previous Pulse & Reason Codes with the option to leave a new comment.
Risk Factors and Success Factors Reporting views in the Pulse reports shed light on additional insights so you know exactly where to focus your attention on Risks and the Successes.
Risk Factors By Category
In the report below you can see that "Risk Factors" have been selected so you know how many Clients are at Risk, the potential impact to revenue, and the "Top Risk Factors" you need to focus on to understand the full story of what's happening with the Client.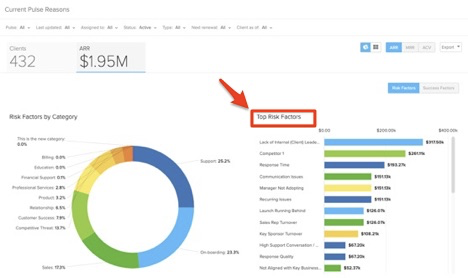 Success Factors By Category
In the report below you can see that Success Factors has been selected to give a view into the "Success Factors by Category", the associated revenue, and the "Top Success Factors" as to what is making these Clients successful with your products and services.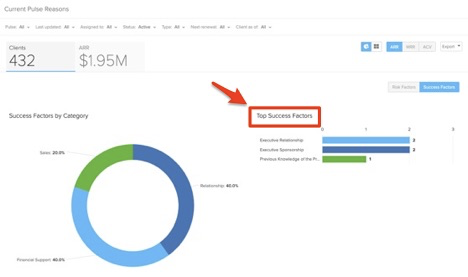 These new reporting views allow you to get an instant view of the health of your customers and communicate it to the broader team.
Setting Pulse Filters
In order to get a more granular view in the reports, set a Pulse Filter to one of these Pulse status to really understand where your customers are at in terms of their health.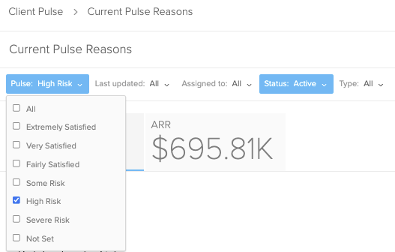 In the example below the filter is set to "High Risk" which gives a filtered view of 14 Clients who are at high risk, the associated revenue, and the reasons why.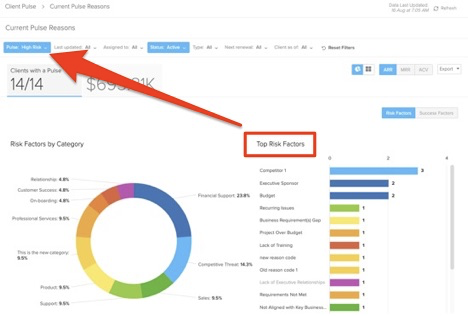 Any combination of filtering can be used to get the story you are looking for. If you want to see a report with just Risk Factors, then choose only the Risk Factor filters for an even more granular view.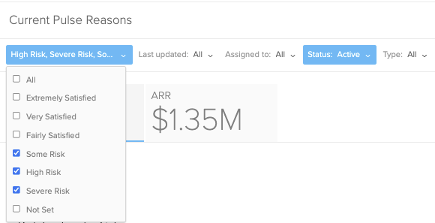 With the ability to filter on multiple factors, you can now tell a much more rich story about your customer's Pulse that you can then share with any organization at your company.
If you would like to discuss your Success Factors strategy, please reach out to your CSM at ClientSuccess. They love to help!