Our native NPS solution (see "What is NPS?" for additional details) is a powerful tool that can help streamline and standardize your customer feedback / satisfaction workflows.
Functionality includes:
NPS Built Right Into Your CS Platform / Consolidated Data
While traditional NPS gives you a broad view of your customer's feedback, our NPS allows you to dig deeper by pairing NPS surveys and scores with other ClientSuccess data. This gives you clear visibility into customer sentiment at all levels - from the front line to the executive sponsor.
ClientSuccess NPS - Dashboard Reporting

ClientSuccess NPS - Client View
Rich Reporting
Gain valuable insights about your promoters, passives, and detractors at each level of your customer's organization with an intelligent view of where you need to focus and what you need to do to help your customers be successful.
Customized NPS "Thank You" Messages
Ask your promoters to give you reviews or ask detractors what you could do to improve. Then take action on their feedback.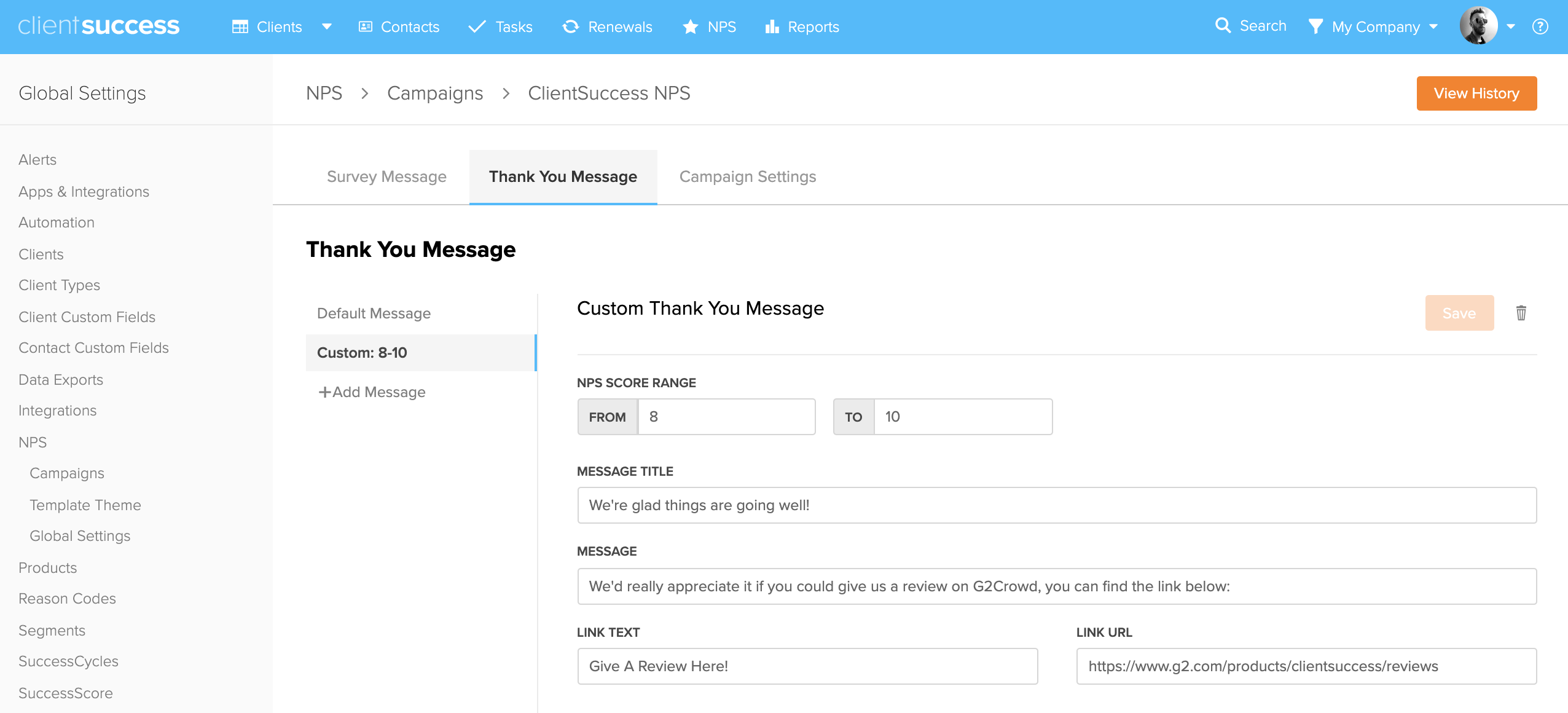 NPS integration with Slack
Give your entire company immediate insights into NPS responses in real-time to facilitate seamless internal collaboration and quickly close the loop with customers.
Various Send Methods


Utilize Automation triggers to run tailored campaigns and send NPS surveys after an onboarding period, before renewal, or at other key moments
Send NPS surveys directly to contacts listed in the Contact App

NPS Reminder Emails
Improve response rates by sending reminders to those who haven't completed a survey to give them a little extra nudge.
Unsubscribe Link
Respondents can unsubscribe from receiving future surveys
We're thrilled to make our NPS solution available to each of you to help you measure your customer experience.
If you want to take a closer look and see how this will help your team, simply let your CSM know and they can answer your questions, share pricing information, and get you set up very quickly.