In case you've missed other parts of our 6-part adoption newsletter miniseries be sure to check it out!
Engagements - Consolidate your emails and meeting notes to increase engagement visibility
Pulse - Create organization-wide consistency on the health of your customers
Automation - Streamline and standardize customer success work
SuccessScore - Better understand the behavior of your customers
Segmentation - Using a dynamic approach to viewing your book of business
This newsletter is about SuccessCycles, which can help standardize your playbooks across your team. These templates - configured in ClientSuccess - will become an empowering resource for CSMs to manage their customers, especially by scale.
Before getting started, we'd like to stress that successful Lifecycle Management only happens with intent. Teams must be willing to dedicate the time, effort, and resources to ensure their customers continue to receive the appropriate experience(s).
Commonly Configured Templates
This is by far one of our most frequented requests during onboarding and adoption, as many teams are anxious to either develop or strengthen what they're currently doing to manage their customers. It helps to see what others are using functionality-wise.
While we highly recommend following the 6 steps outlined in our Develop, Document, and Strengthen Customer Lifecycle Plans article to get the most value out of SuccessCycles, we thought we'd start out by sharing common SuccessCycles utilized by ClientSuccess users.
Below are a few examples of configured SuccessCycles customer use. Note these are not all inclusive, but serve as a framework or guideline.
Onboarding & Implementation

Success Criteria Tracking
CSMs can utilize SuccessCycle "tasks" to record each client's custom success criteria objectives. You might consider creating a perpetual SuccessCycle that isn't broken out by quarter to track the customer's criteria for success.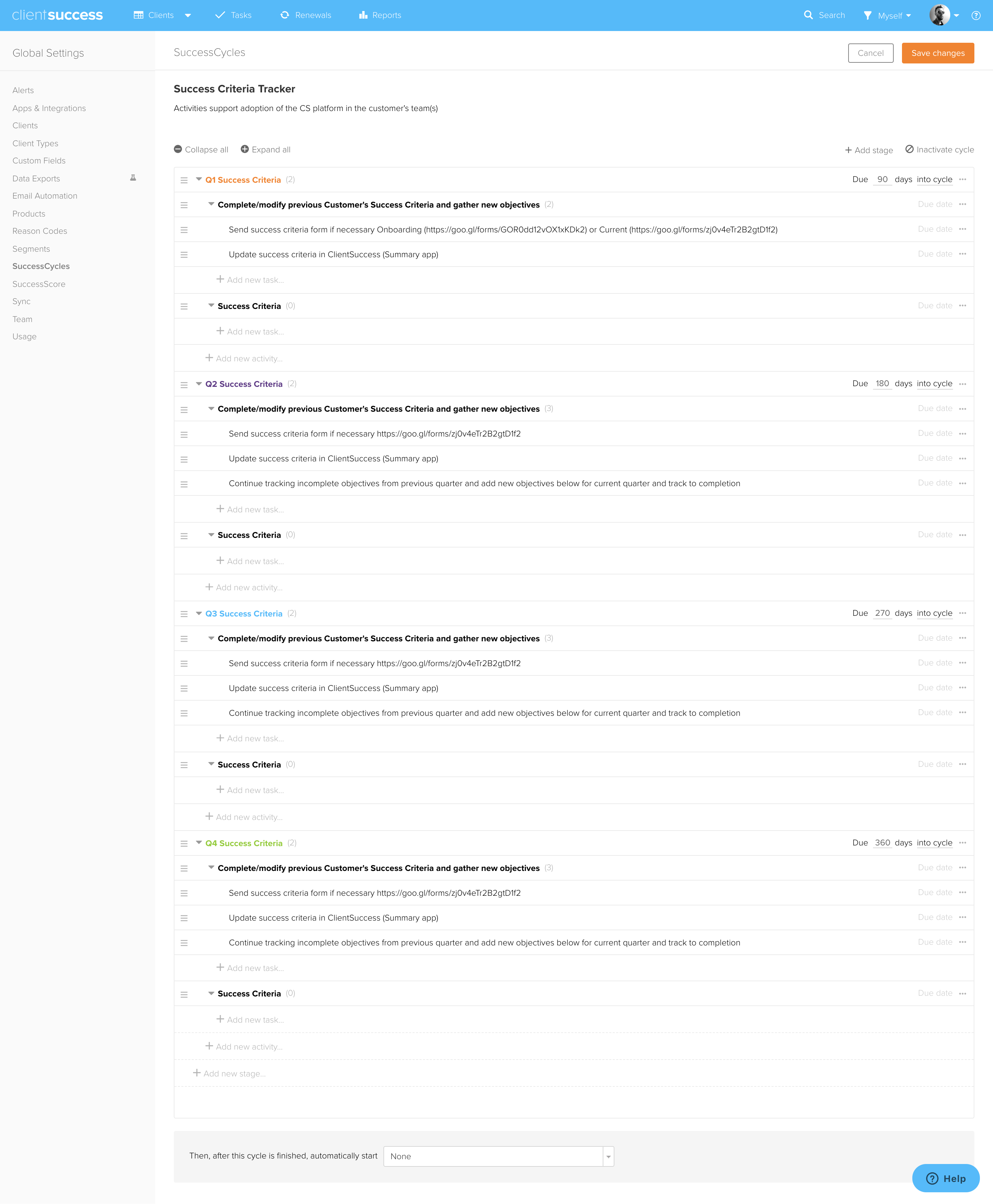 Key Sponsor Turnover
SuccessCycles can also be used for non-linear events, such as key sponsor turnover. SuccessCycles allow you to standardize playbooks across your team and build a toolkit for them to utilize.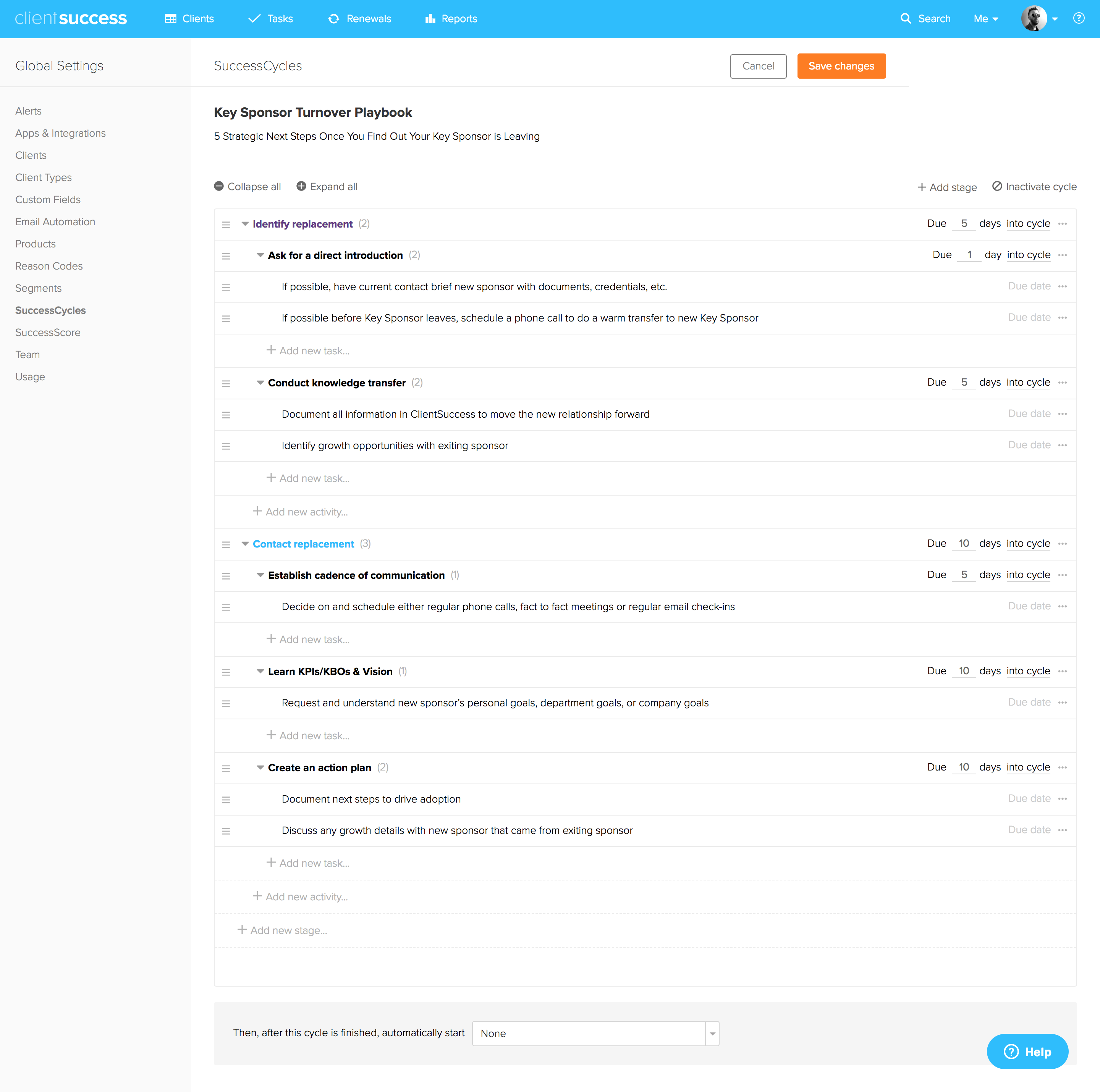 Develop, Document, and Strengthen Customer Lifecycle Plans
As you review the above SuccessCycle examples, it'll be particularly helpful for you to seriously consider what Lifecycle Management means and looks like for your customers:
What does our current process look like?

What processes need to be added / enhanced?

(Digging into the "What") Where and how could we improve the processes?
What does a successful customer look like?

What sort of visibility into templated tasks do we want/need?


Do we need more granular detail of what CSMs should be doing for an account?
Do we need High-level milestones to answer "Where are my customers at and what's coming up next?"
You'll want to focus on what you're wanting to accomplish or what your objectives with your customers are. For example, which part of the customer journey needs the greatest attention (ie onboarding)?
In order to achieve greater long-term success with your clients, follow the 6 steps outlined here to better develop, document, and strengthen these plans or playbooks.
User Training Webinar
Are you new to your company and want to learn more about SuccessCycles? Do your SuccessCycles need a bit of a refresher? Want to learn about different playbooks you could configure and how to leverage them as SuccessCycles?
If so, we encourage you to watch the following webinar!
What's Next?
Evaluating your current lifecycle needs will help you understand what needs to be improved and what could be iterated. Developing your playbooks is not a one-time activity! Because your customers are and product are always evolving, so should the appropriate experience(s) they receive.
We recommend you continue to document and strengthen your plans as frequently as possible, for example every quarter.