An Honest Health Value is Better than a False Health Value
**What we recommend**
It's important to establish a customer success culture of honesty, as an honest customer health value helps the customer success manager and team take proper action to improve relationships. Not being honest on both ends of the health spectrum misrepresents the actual health of a client and can lead to fighting fires or churn.

Notes in Pulse-Setting
When setting a pulse value, you can include any relevant notes or updates (either in-line from the client screen or at the client level). This serves as an opportunity to mention some of the criteria your team identified when defining each pulse value.
**What we recommend**
If you've defined your Pulse values, include some of those points in your notes. If you still need to complete this internal configuration step, perhaps now is a good time to establish consistency for you and your team.

Holistic Customer Health Follows a Bell-Shaped Curve
A holistic view of customer health typically follows a bell-shape curve. Most customer health values fall between "High Risk" and "Very Satisfied", and the majority of your clients will be in this range on the bell-shaped curve.
**What we recommend**
Only the best clients (executive sponsor, proven ROI, case studies, etc.) should be marked as "Extremely Satisfied", while only the clients that have reached out to cancel a contract or are very likely to churn should be marked as "Severe Risk".
SuccessScore
Pulse can play a key role in how your SuccessScore is calculated, especially for tracking sentiment. For additional information, check out the following articles

Client Pulse History
Over time, pulses come together to form the client pulse history. This is a place for you to view the notes you included in setting the pulse, as well as a nice visualization of the health journey.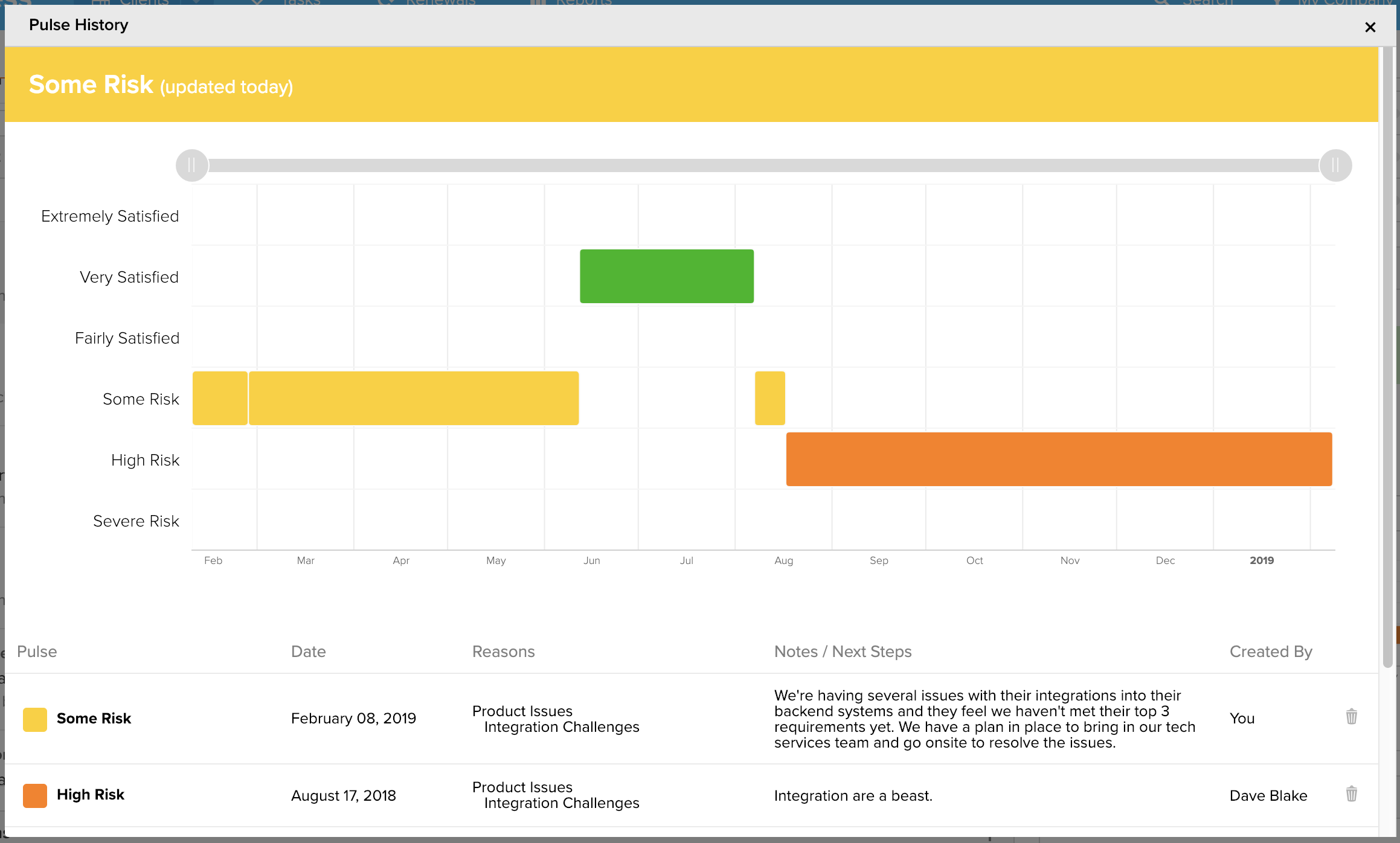 **What we recommend**
You can work to identify trends, next steps, or other gameplans to improve satisfaction and mitigate risk. For example, communication could be improved by involving an executive sponsor or holding weekly cadence with your key contact.

Client Screen: Pulse-related Segments
Pulse-related segments are often be the most valuable, because you can clearly see certain client profiles. Consider the following scenario: your CEO (or some other executive) comes to you wanting to know clients who have expressed a desire to churn and who will renew in Q1 2017. Where do you begin?
ClientSuccess has a six-point health scale ranging from Severe Risk to Extremely Satisfied. As part of this Pulse Plan, teams set some general internal guidelines for customer success managers as they determine customer health. This creates organization-wide consistency on the health of its customers. One point we recommend is that Severe Risk be used to denote a client whose expressed their desire to churn. With a few quick filters, CSMs can create and save a segmented view for Q1 2017, "Severe Risk" customers.
One thing to consider is how often you want to set Pulse. Depending on how frequently you engage with clients, you'll likely already have an idea in place. I've personally created a segment for when Pulse hasn't been set in more than 30 days. This reminds and gives me the opportunity to look at the relationship we're forming with clients. If a client is "Very Satisfied", are they still "Very Satisfied" 30 days later? Do I need to step in and continue to advocate for them? Is there additional value I can bring to the relationship? It's also beneficial for your manager and executives to be notified when a client's pulse has been marked to "Some Risk" or below. This flag works to prevent surprises later down the road.
**What we recommend**
Include other criteria, such as renewal date or usage trends, when creating pulse-related segments. This can give you the visibility you need in a more custom view, when you need it. Best part is these segments can also be exported via CSV.