Introducing SuccessScore Profiles
SuccessScore Profiles are a new powerful way for your executives, managers, and CSMs to get more comprehensive insights into customer health, risk, maturity, and much more. With the new SuccessScore, your CSM teams can proactively engage with customers with precise actions based on customer health indicators and metrics.
SuccessScore Profiles are configurable profiles (based on metric groups) that can be applied based on client type.
Benefits to You
The ability to build SuccessScore Profiles opens the door to gain a greater understanding of your customers' health.
You'll be able to create customized SuccessScore Profiles for your customer base (based on client type), evaluate that score and then make actionable decisions based on that score. As with the previous SuccessScore, you'll still be able to create segmented views of your book of business, which provides an overarching view across your customers and where you might need to focus your success efforts.
Think of it as a credit score (of sorts) for your customers - the SuccessScore Profiles will give you a number based on a configured group of metrics, weighted to represent the overall health of a particular client type in your book of business.
What you can do!
Admins and/or Managers can now configure SuccessScore Profiles (within ClientSuccess) based on a number of criteria or data points with this initial release, listed below.
ClientSuccess Data Points
Client Details

Client-as-of Date
NPS Score
Termination Date
Scorecard Score

 Engagement


Last Engaged - Days Since
Last Touch - Days Since

Primary SuccessCycle

Current Stage - Completed (Boolean)
Current Stage - Completed Date
Current Stage - Current Stage Start Date
Current Stage - Sequence
Days Since Start Date

Pulse

Latest Created Date
Latest Pulse Level
Previous Created Date
Previous Pulse Level

Revenue
Usage

[usage metric] - 7 Day Change (Percentage)
[usage metric] - 30 Day Change (Percentage)
[usage metric] - 60 Day Change (Percentage)
[usage metric] - 90 Day Change (Percentage)
Custom / Salesforce Field Types
How to Make it Live & Getting Started
During the initial release, to configure your own health profiles, you will need to reach out to your assigned CSM, or support@clientsuccess.com if you do not have a CSM, to have a hands-on training scheduled to show you around the new SuccessScore Profiles.
Admins and/or Managers can then go to Global Settings > SuccessScore and click "New Profile" to start configuration.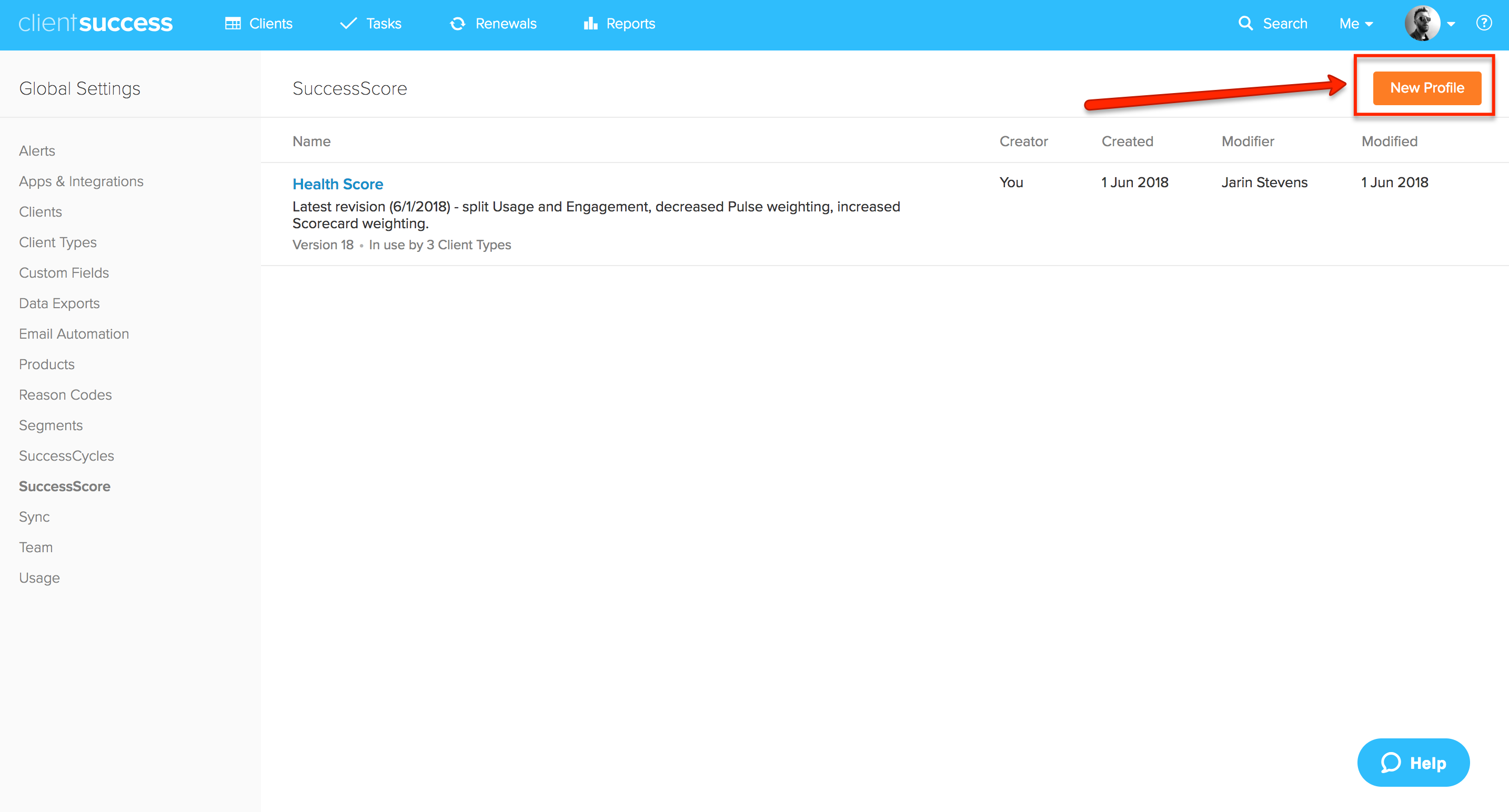 You will then be prompted to name the profile, leave a profile description, assign the profile to client types, add metric groups and weightings, and specify the group's individual metrics.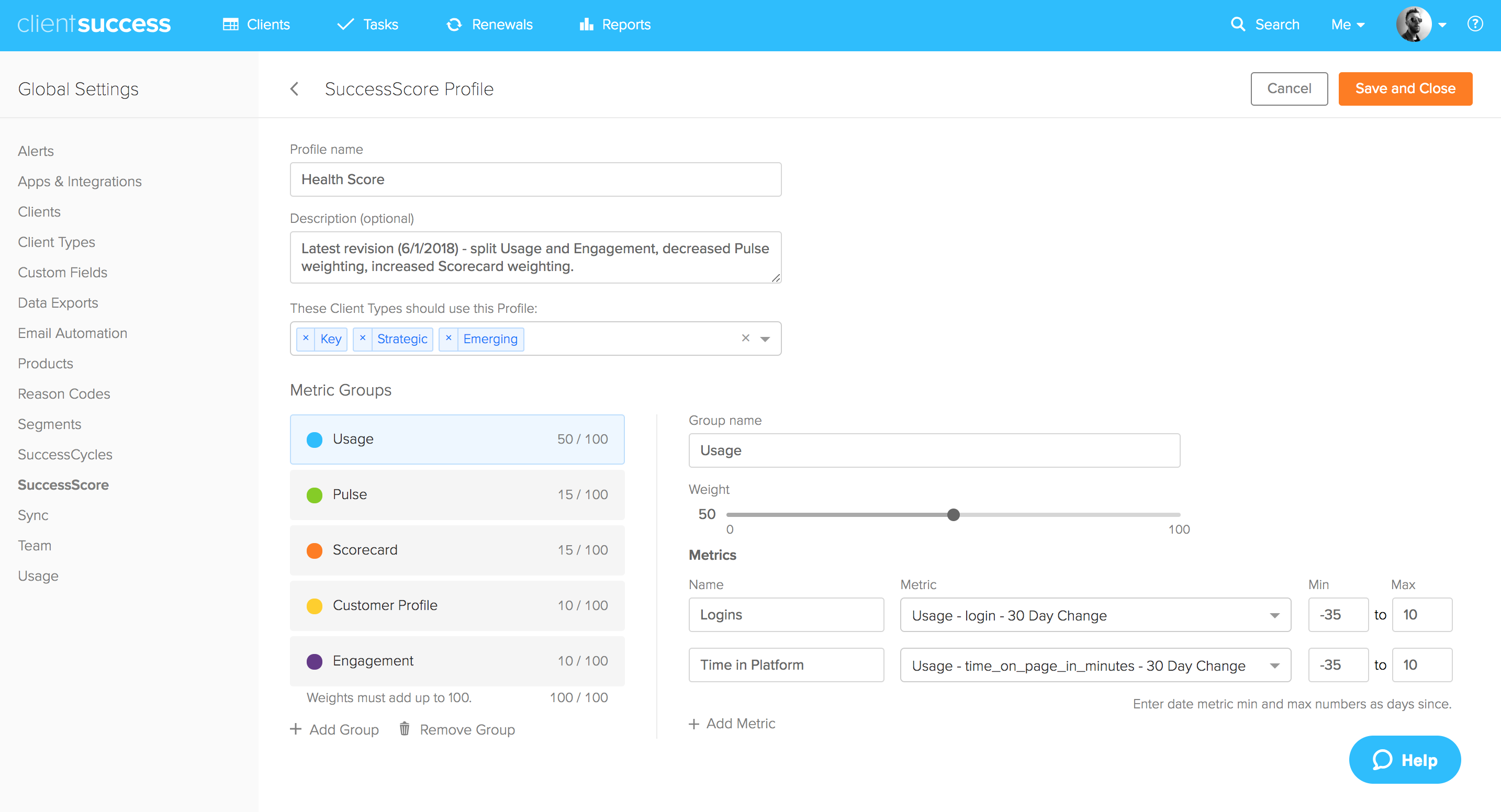 For a more comprehensive review of how to configure health score profiles, please feel free to engage with your Assigned CSM.
Once Live, Here Are Some Things to Know
Understand that configuring SuccessScore Profiles is an iterative process; it's ok to make adjustments or revisions as you get a better feel for the criteria or data points you're using to configure the profiles.
**Note that client types without an assigned profile will have a SuccessScore calculated by Pulse. When a Pulse is set, the SuccessScore will (1) recalculate based on the degree of change and (2) continue to grow or decay depending on the direction of change and time spent at the updated pulse value.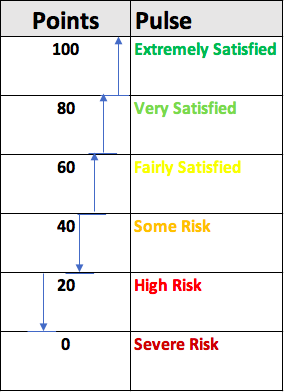 We Want to Hear from You
As you dive into this new feature, we encourage you to work with your Assigned CSM to configure an initial profile.
Please let us know how you like it or think it could be improved. We'll look to iterate in future enhancements based on your feedback.