Our product usage tracking feature allows you to observe key actions that your clients do within your app. These events can be nearly anything, including: buttons clicked, pages viewed, time spent completing actions, projects completed, or dollars processed. The right metric is whatever best indicates that your user is engaged and getting value out of your app.  The visibility of this data in ClientSuccess is a comparison view over pre-defined periods of time in the Usage App window on a client record as show below.
You can also view a single, primary metric you have selected to best represent a customers health (configured in Global Settings>Usage as shown below) across your book of business in the Global Client Screen.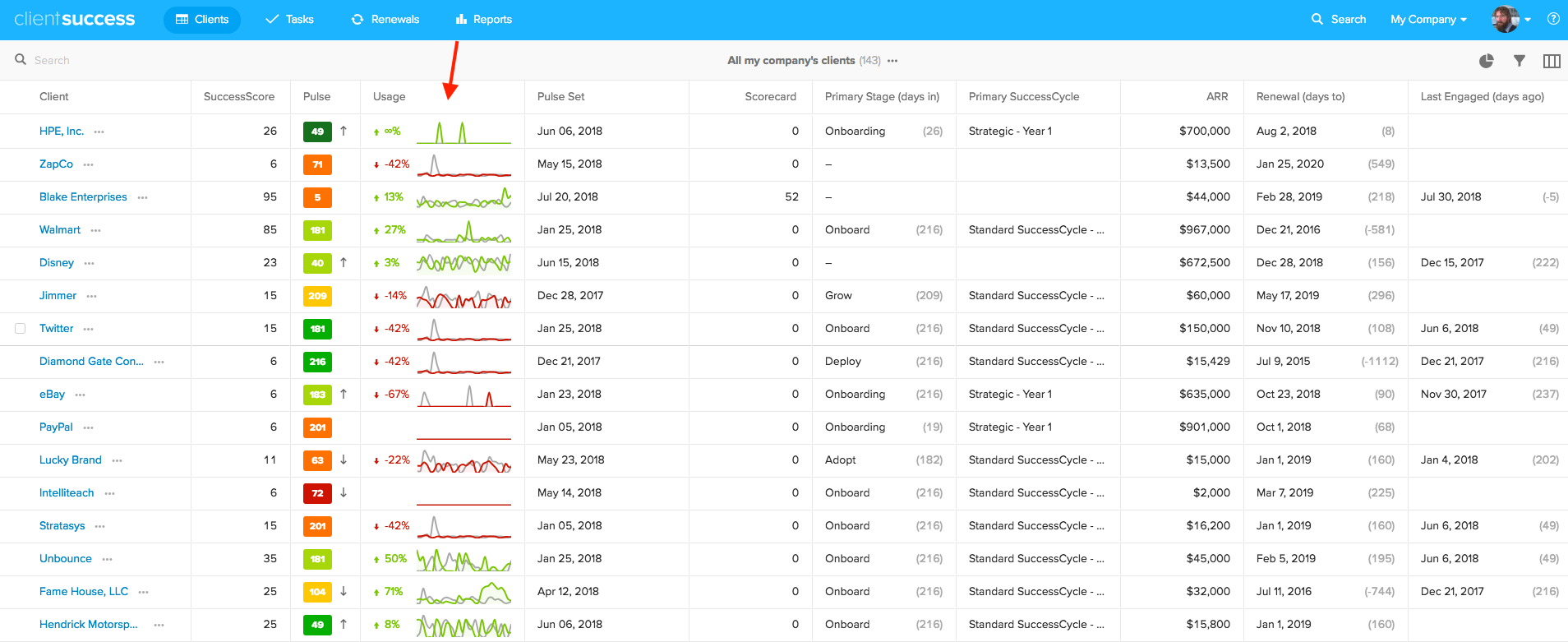 You can track up to 20 events that would include up to 1 million events a month.
You can also include usage metrics as a part of your overall SuccessScore!
There are four options for sending usage data into ClientSuccess:
*Note that you can use any combination of these methods to push different types of usage metrics into the Usage App tracker in ClientSuccess.  :-)
What information does ClientSuccess usage tracking provide?
Average events within selected time period
Total events within selected time period
Trending visualization of events within selected time period
Trending visualization of events within previous time period
Available time periods:
Today
Yesterday
Last week
Last month
Last 7 days
Last 30 days
Last 60 days
Last 90 days
Last 180 days

How to configure:

Requirements
To install product usage tracking, you must:
Be an Admin user with full access to ClientSuccess.
Submit a request to our support team via the in-app chat messenger or support@clientsuccess.com with the message: "Please enable usage for our instance of ClientSuccess". This will generate your API Key and Project ID that you will use step #2.
2. Locate your Usage API Key and Project ID on the Usage Settings screen.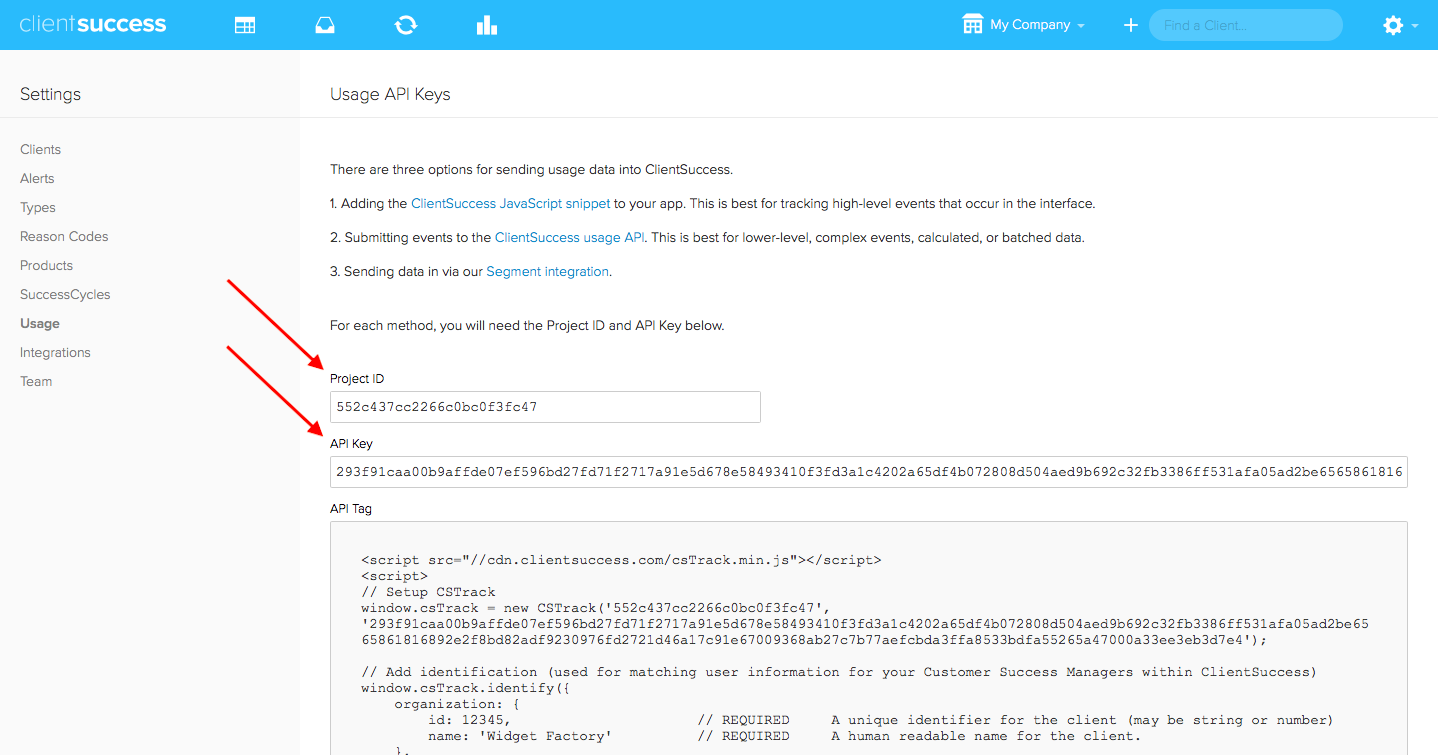 3. Begin sending usage events to ClientSuccess by means of one of the available options:
4. If the organization name passed in matches a Client name in ClientSuccess, then the ID will be associated with that client automatically when the first event is passed in. If the organization name doesn't match a Client name exactly, then you will need to perform a one-time, manual pairing after the first event is passed in as shown in the image below.  You will need to click on the drop-down arrow and select the correct client that usage data should be paired with and hit "save". Once the organization ID is associated with a Client, all future events will be automatically associated with that Client by the organization ID.
Note:  Data must be actively sent into ClientSuccess before the Usage App window will show up in the interface. 
Updating your terms of use and privacy policy
We suggest that you include the following section to account for using ClientSuccess on your website or web application. Always review changes to your sites terms & privacy policy with your lawyers.
Use of ClientSuccess Services: We use third-party analytics services to help understand your usage of our services. In particular, we provide a limited amount of your information (such as your name, email address, and timestamps) to ClientSuccess, LLC ("ClientSuccess") to collect data for analytics purposes when you visit our website or use our product. ClientSuccess analyzes your use of our website and/or product and tracks our relationship so that we can improve our service to you. We may also use ClientSuccess as a medium for communications, either through email, or through messages within our product(s). As part of our service agreements, ClientSuccess collects publicly available contact and social information related to you, such as your email address, gender, company, job title, photos, website URLs, social network handles and physical addresses, to enhance your user experience. For more information on the privacy practices of ClientSuccess, please visit http://www.clientsuccess.com/privacy-policy. ClientSuccess' services are governed by ClientSuccess' terms of use which can be found at http://www.clientsuccess.com/terms. If you would like to opt out of having this information collected by or submitted to ClientSuccess, please contact us.