What are Concurrent SuccessCycles?
Have you ever wanted to be able to work on multiple SuccessCycles at the same time? Well, now you can.
Benefits to You
The ability to work on SuccessCycles concurrently opens the door for managing multiple projects or playbooks.
For example, imagine you're currently working on an adoption SuccessCycle, but need to implement a "Key Sponsor Turnover" playbook you've templated out in your global settings. Being able to add another SuccessCycle concurrently enables you to manage these simultaneously.
What's Changed
ClientSuccess relies on the idea of a "primary" SuccessCycle, as determined in the client's settings. Previously, this was the only SuccessCycle that could be managed at any one time. See the old way below.
Now, along with your current "active" SuccessCycle, you will also have visibility into any other SuccessCycle that has been assigned to a client record.
How to Make it Live + Getting Started
To activate this feature within your account, go to App Settings > SuccessCycles and check the "Enable Concurrent SuccessCycles" box.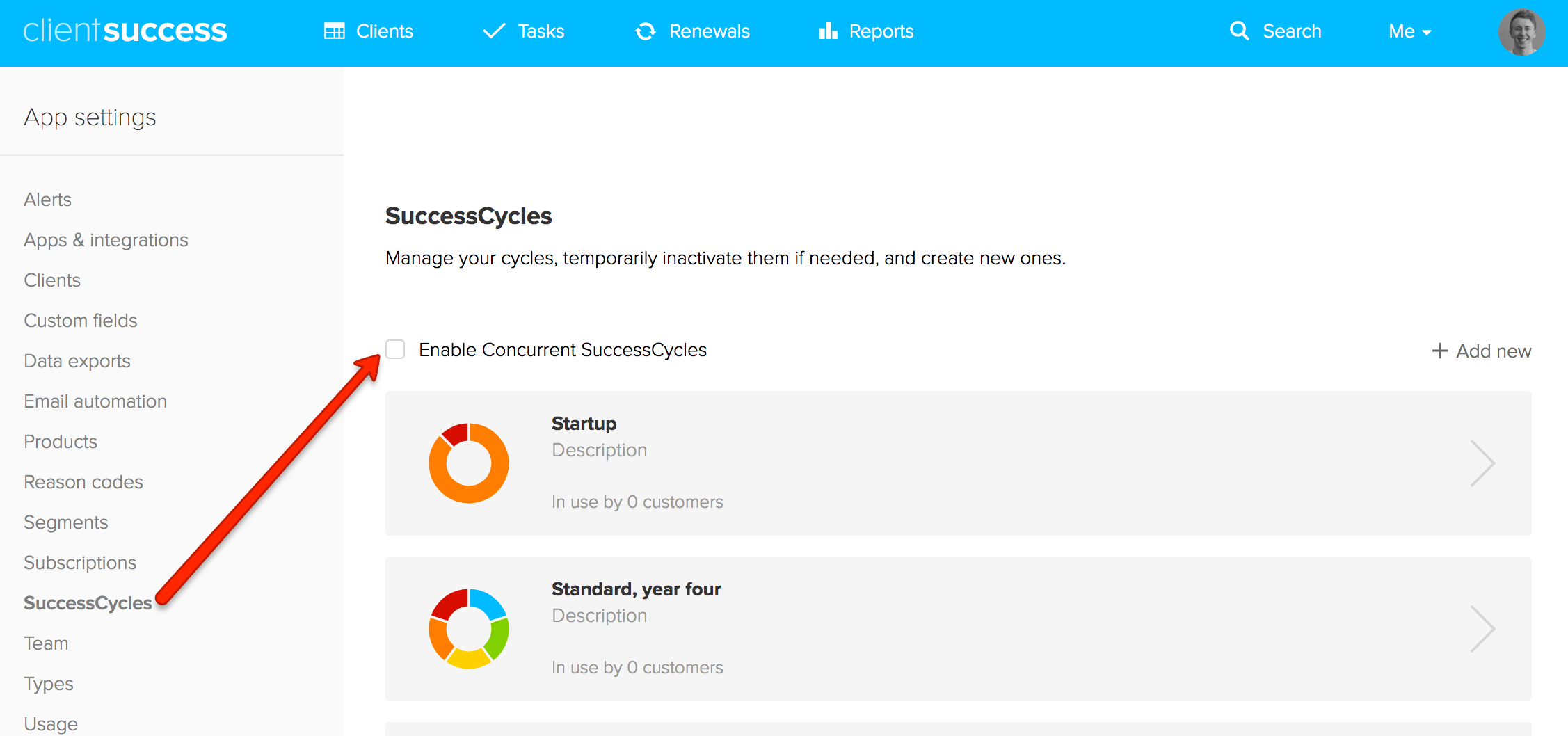 The SuccessCycle module will then take on a tabbed view and you can add SuccessCycles by clicking the "+" in the top right hand corner, as pictured below.
Once Live, Here Are Some Things to Know
ClientSuccess still relies on the idea of an "active" SuccessCycle, which will be defaulted to the first SuccessCycle assigned to a client. This will be the one visible from the home clients screen, and can be changed under the client's settings on the client record or via inline action on the clients screen.
Also, if you had previously toggled between SuccessCycles prior to this release, those will appear in the tabs. If you'd like a concurrent SuccessCycle removed from the tab, please reach out via our in-app chat.
SuccessCycle Enhancements
With the introduction of concurrent SuccessCycles, we've labeled "Primary SuccessCycle" and "Primary Stage (days in)" across the clients screen and when editing a client. Now there's no more confusion as to which SuccessCycle you're seeing on the home clients screen.
When you jump into a client record, the Primary SuccessCycle in the SuccessCycle app is tabbed on left and automatically emphasized, making it more clear which one you're working on.
Concurrent SuccessCycle activities and tasks (with due dates) now show up under the tasks screen. These next steps and action items can help guide your proactive execution across concurring SuccessCycles.
When trying to add SuccessCycles to a client, the SuccessCycle dropdown list filters out previously completed cycles.
Users can now remove a concurrent SuccessCycles as needed.