We're excited to share the latest enhancement to ClientSuccess: Advanced Reporting!
With this powerful addition, you can now have access to a suite of new Advanced Reports and build your own Custom Reports that are fully interactive, allowing you to drill-down into the data on multiple levels. Each report comes with a set of standard filters, as well as NEW Filters for Product, Region, and Custom Fields.
Here's what you can expect from ClientSuccess Advanced Reporting:
New Advanced Reports - such as Revenue by Product, Revenue by GEO, SuccessCycle Report, and SuccessScore Report are now available just to name a few. These new reports provide actionable insights into your customer data such as the Revenue by GEO report:

New Filters - by Product, Region, Custom Fields, and Custom Field Values allow CSM's to view the data through the lens they are looking for.

Custom Reports - Use our report templates, or build your own reports from the ground up to fit your unique needs. Create and share reports specific to your organization's objectives to tell the story of your business outcomes as shown in the Revenue by Product report:

These new reports are fully interactive and you can drill-down into the data on multiple levels: Filters, Charts, Tables and Exports. For more info on how to get started creating your own custom reports, please refer to the Getting Started with Domo guide to help you learn the basics.
Standard Report Filters
Each report comes with the standard filters for Customer, Customer Type, Assigned To, as well as the all New Product and Custom Fields filters.

These filters are at the global level, so once selected the filters apply to all charts and data tables in the reports. Filters can also be used in combination together so you can find the exact insights in the data that you are looking for.
Report Data Exports
Data from the advanced reports can be downloaded or exported in the following formats:

Individual charts or tables can be exported so you have the insights you need for QBR's or Board Meetings.
New Reports
We've added several Advanced Reports as templates that will give you new insights into your data.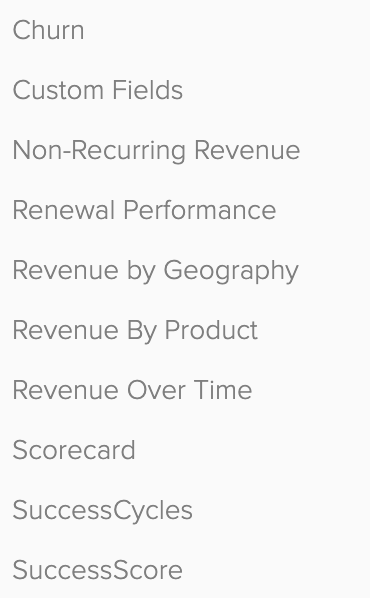 Here are just a few highlights on the new reports that you've been waiting for:
Revenue by Product - for new insights into how your products are performing.
Churn By Product -

for advanced insights into what churn looks like across your customer base and products.

Revenue Over Time - for a long-range view of Revenue by Product, Assigned To, and Customer Type.
SuccessCycle Report - on where customers are in cycles and stages, and how long they have been there.
Scorecard Report - for average Scorecard completion and percentage criteria completion by customer.
Filter By Region
We recently added Region as a standard field to the customer record and it's now available as a filter on all Advanced Reports. Region is implemented at the global level and applies to all charts and data tables in the reports.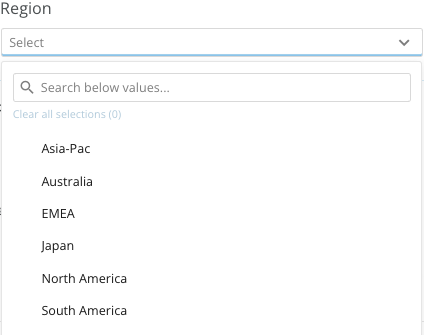 Note: Regions can be created and managed in Global Settings>Regions. Please see our Knowledge Base for more information on Regions.
Please feel free to reach out to your CSM or our support team with any additional questions.