Beta Update - 1/19/2023
Here are the updates from today's release that we would love you to try:
Completed Tasks are no longer displayed in the Tasks App

Improved Navigation to "+More" in the Calendar View
Hyperlinks to customers in the List, Calendar, and Task Details views
Customer Links open customer records in the same tab/window
Clear the search and maintain the focus after adding teammates to tasks
Sort "Customers", "Assigned to", and "Teammates" pick-list values in alphabetical order
Avatars now display on comments in a task
In-app Notifications and Alerts
We have also included hyperlinks to Customers and Tasks in the Notifications and Alerts feed that can be directly accessed by clicking on the links. Notice the In-app Notifications and Alerts have been extended to include other products such as Pulse and Product Pulse. (More alert types will be coming in the future.)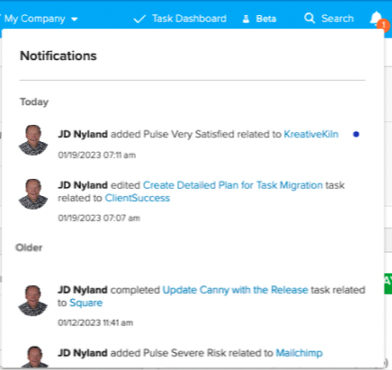 Features Up Next:
"My Tasks" View - for tasks assigned to you
Personal task templates
Connect Tasks to Automation Rules
Recurring Tasks - weekly, monthly, yearly
Task alerts and notifications from Email, Slack, and MS Teams
Note: Adding Contacts to Tasks will be re-enabled when external task sharing becomes available.
Please enjoy and keep the feedback coming!
____________________________________________________________________________
Collaborative Task Management Beta Announcement
Collaborative Task Management delivers the next generation of task management to collaborate in a natural way with your internal teammates and external customers.
Phase I features include:
Multiple Task views by List, Kanban, and Calendar
Drag-n-drop tasks in the Kanban and Calendar views
Advanced Sorting and Filtering options for quick insights
Create tasks with Links, Attachments, and Tags
Comment on Tasks to give context as they progress to completion
Task Templates for quick task creation
Visual task analytics for insights into how you're doing
Note: Existing To-do's and SuccessCycles Tasks will not be impacted during the Beta.
New Task Dashboard
Users will see a new "Task Dashboard" option in the product banner so existing Tasks and SuccessCycles will not be disrupted during the Beta. The new "My Open Tasks" view displays only the users Tasks that they have created, assigned to others, or have been shared from a teammate so they can know exactly what they need to do next.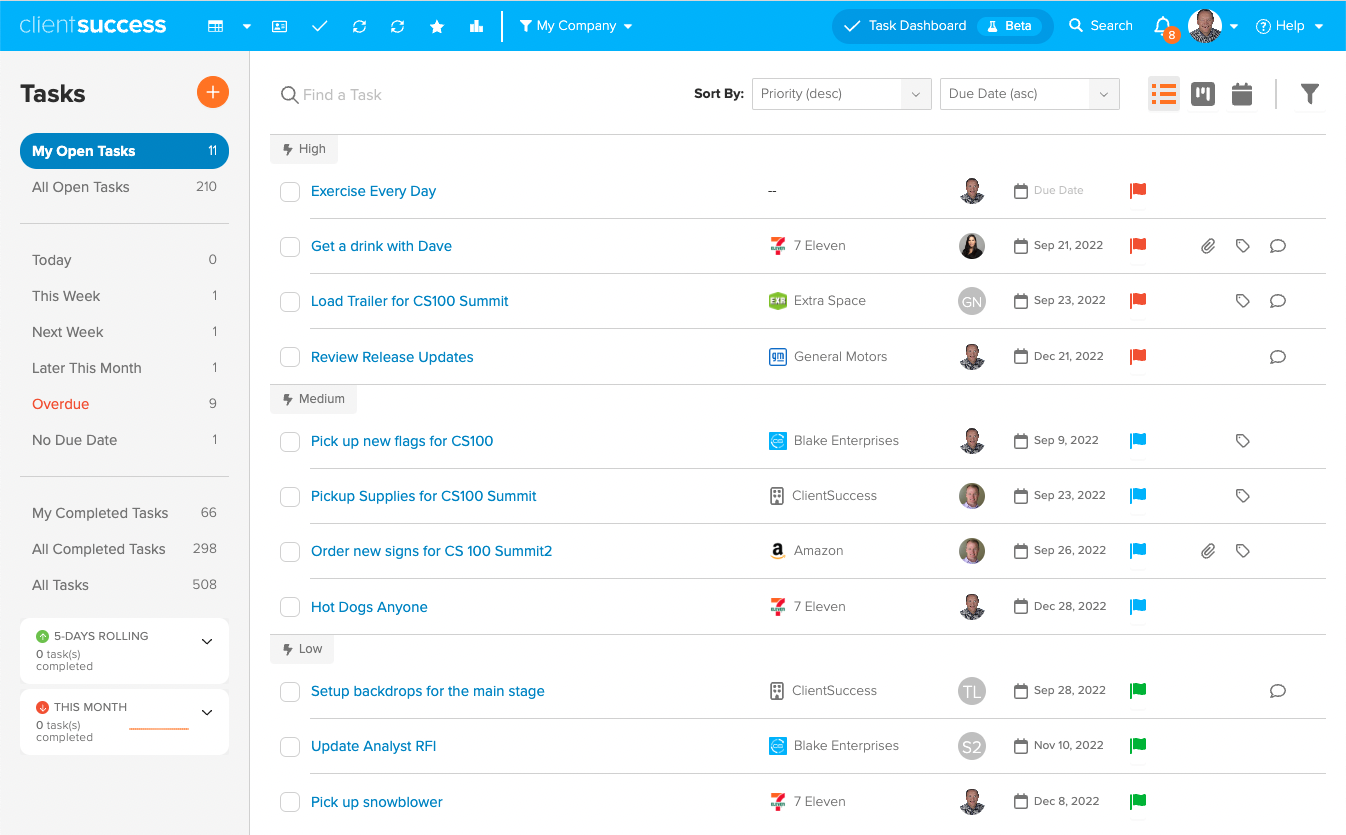 My Tasks vs All Open Tasks
The "My Open Tasks" and "All Open Tasks" views are segmented from time-based preset filtered views so you can chose to see you own tasks (default) or all tasks that the team is working on.
The time-based preset views of Today, This Week, Next Week, Later This Month, Overdue, and No Due Date can be selected and de-selected independently to view the exact Tasks you are looking to focus on. In the example below, Overdue has been selected to see a filtered list of my Overdue Tasks.
Task Filters
There are several task filters available including Assigned to, Tag, Pulse, and Client Type, which can be selected in addition to the present filtered views in the menu on the left.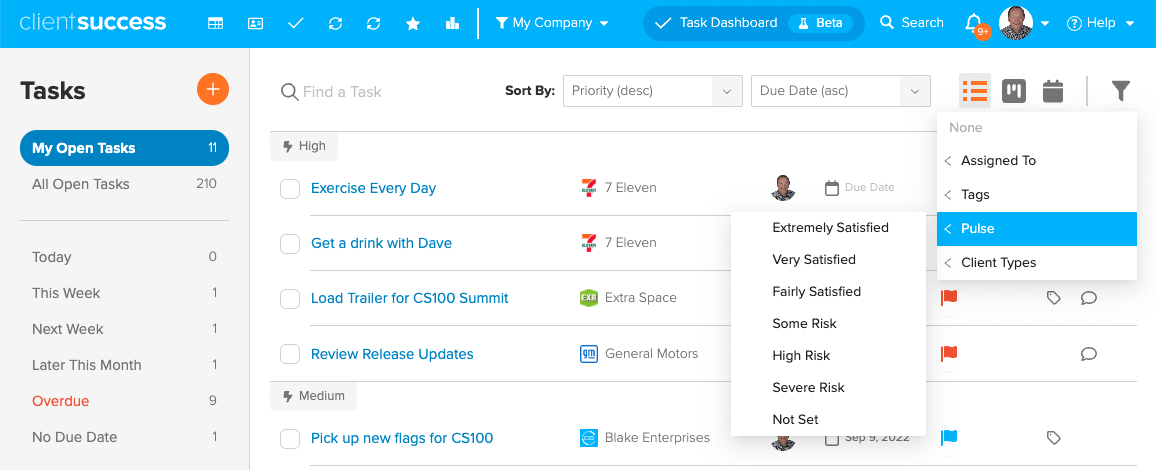 Multiple filters can be selected to give the user an even more granular view of tasks they are working on or looking for.
Kanban View
The Kanban view provides a project-based view where tasks can be grouped by Priority, Customer, and Assignee, in addition to applying dual-sorts for options such as Priority, Due date, etc.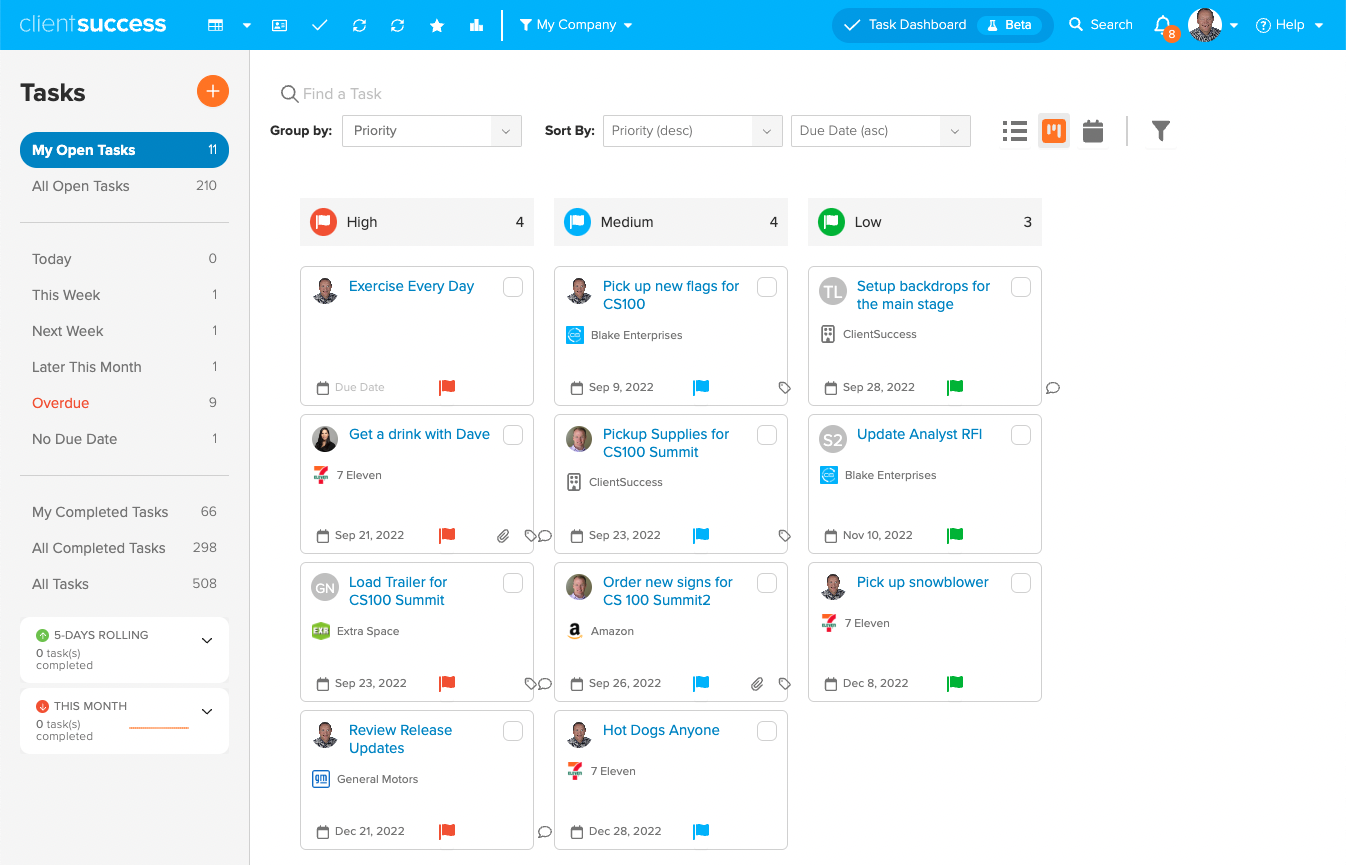 The Kanban view also supports full drag-n-drop capabilities to move tasks between columns to change priority or between users to change the assignee.
Calendar View
The Calendar View gives a unique perspective into when your tasks are due and if you are working on the right priorities. Users can drag-n-drop tasks from day to day and view their tasks by Month, Week, Day, and 5 Days work week.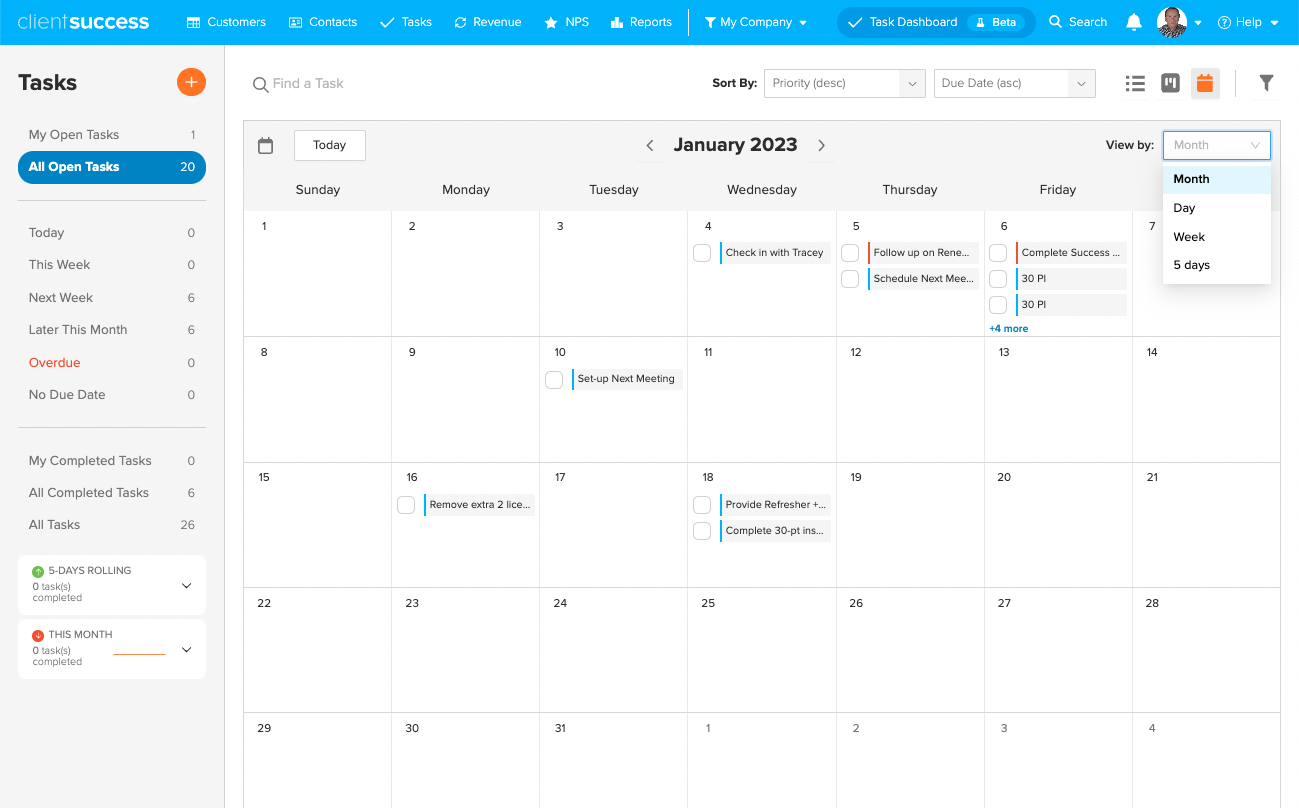 Notifications and Alerts
In conjunction with the new Task Dashboard, we are launching a new In-app Notifications and Alerts system. A new "Alert Bell" is located in the product header and displays the number of notifications that are available for viewing

To see a list of notifications click on the "Alert Bell" and the notification feed will appear with any new notifications, in addition to those for the last 30 days. Note: A small blue dot will be next those notifications that are new and haven't been viewed yet.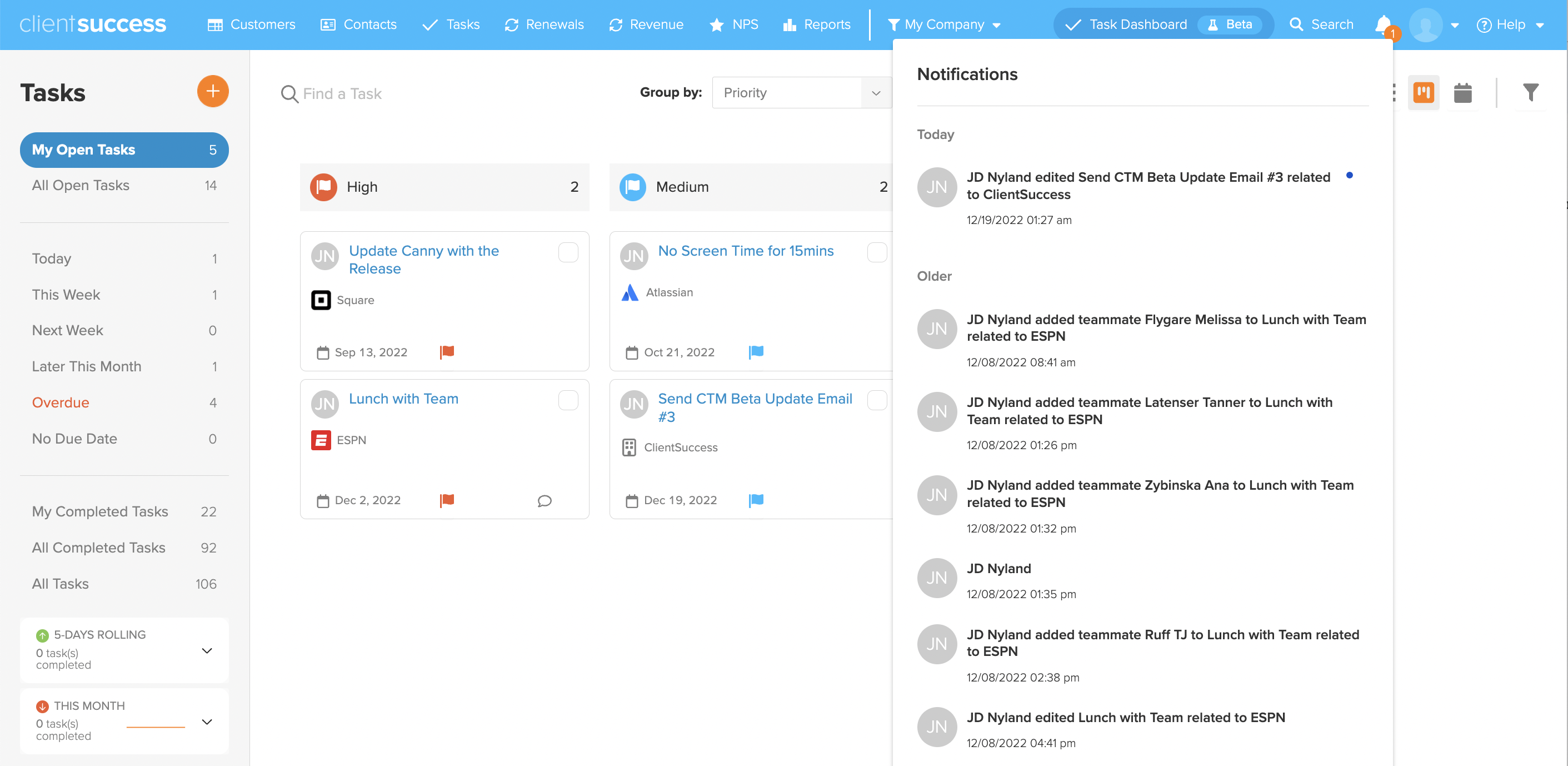 Task Templates
New Task Templates help accelerate task creation and remove workflow friction. Task Templates are global for now, and can be added by Admins and Managers in Global Settings>Tasks>Templates.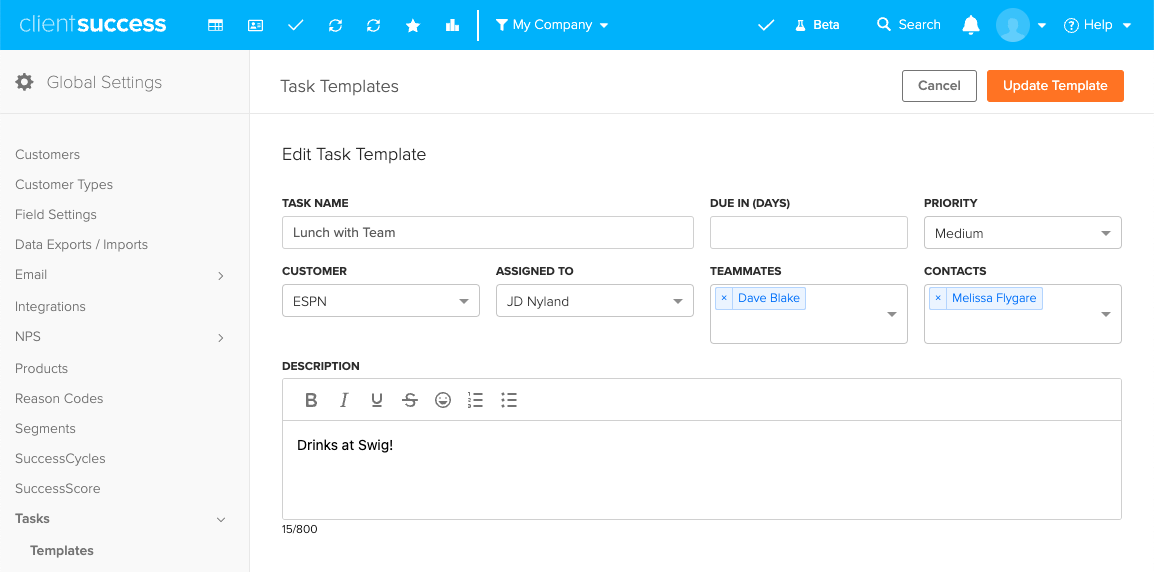 Note: We will be following up with personal Task Templates and a the Recurring Task option for the templates in a future release.
Creating A Task Using A Task Template
Users can now create a task from the "Fill from Template" option in the New Task creation page. To use a template, click on the "Fill from Template" option and you will be presented with a list of Task Templates to choose from. Select the template you wish to use and all fields will be filled in from the template.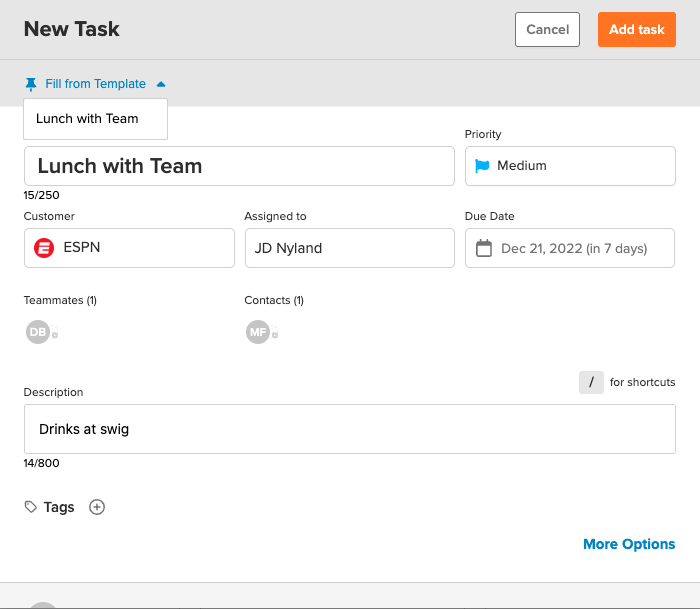 After selecting the template, you can also modify the task in-line if you would like to change any of the task fields shown above.
Comments on Tasks
Users can add comments to tasks for updates while progressing towards completion.
Tags can be added to tasks to give more context. Users can also click on the "More Options" to add attachments and links to include relevant content with the task. The last few updates are added to the bottom of each task so you can see a history of who created the task and how it has evolved over time.
Task Sharing
The first phase of Task Sharing allows the user to share a link to the task by clicking on the elipsis and selecting "Share a link". A link to the task will be automatically added to the clipboard which can be pasted into an email or shared via Slack or other social media applications.

Create Task Template, Copy, and Delete options are also available in the elipsis drop-down menu.
New Tasks App
The new Tasks App provides a list view of all tasks for the customer with the ability to complete, update, or search for any task for that specific customer. Users can also change assignee, due date, and priority, in addition to adding links, tags, and comments as progress is made toward completion.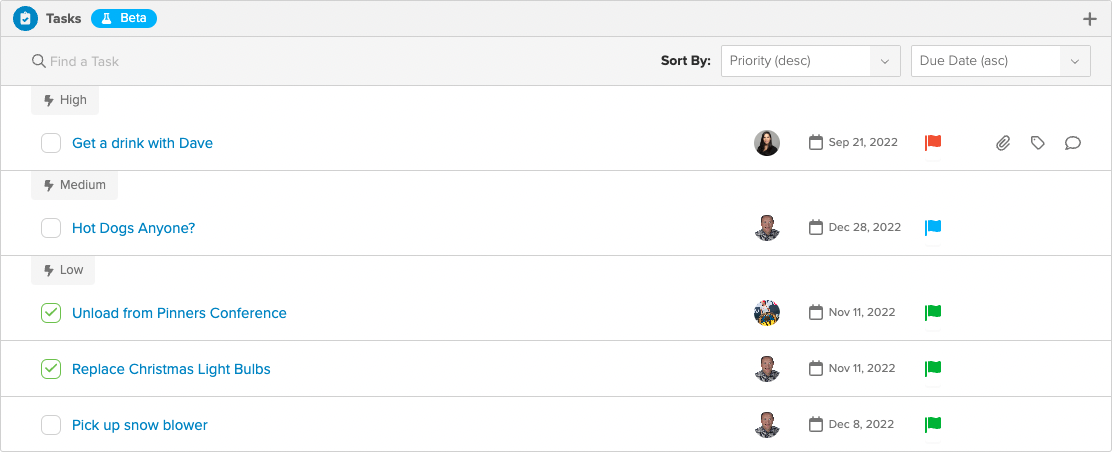 What happens to my old ToDo's?
In order to help you move your old ToDo's into the new Task framework, we are planning to migrate your old ToDo's in approximately a month. (We will be sure to give you plenty of notification). We are planning to migrate the following ToDo's:
Any non-completed ToDo's
ToDo's without a due date
Historical ToDo's completed within the last 90 days
Note: You can download your historical Tasks by going into Global Settings>Data Exports/Imports to export a full copy of your ToDo's.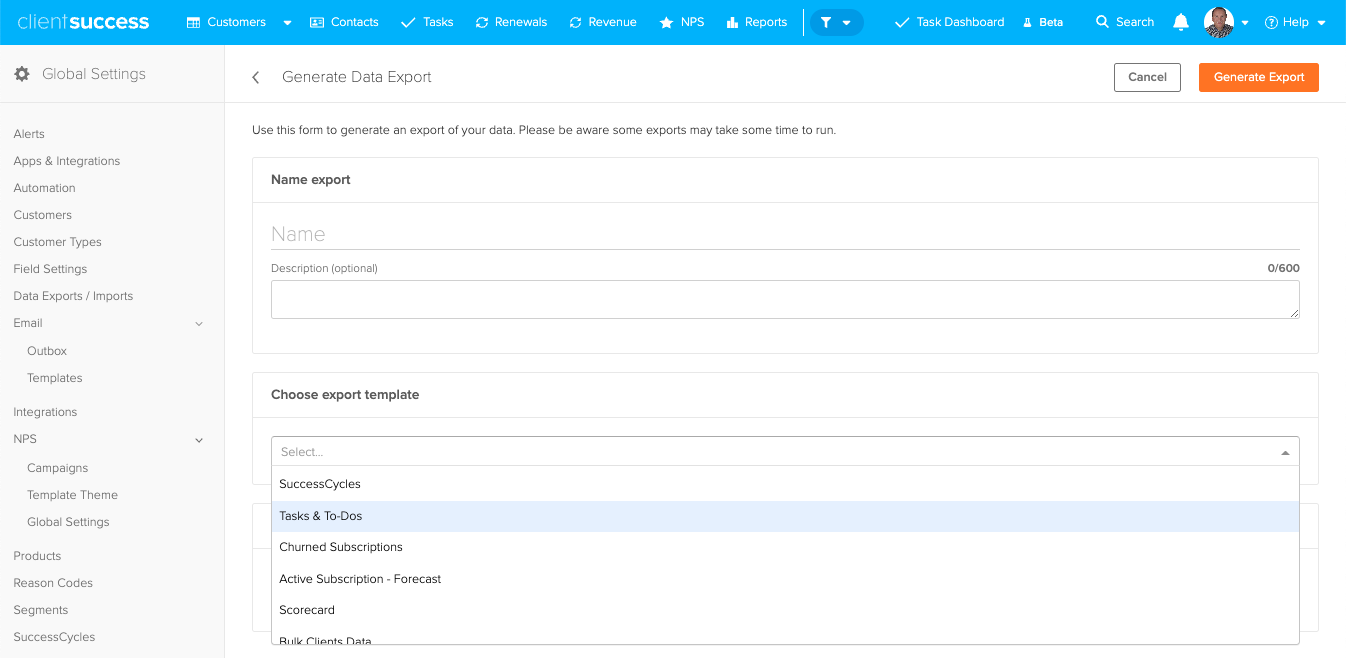 What happens to my SuccessCycle Tasks?
Existing Tasks / To-do's and SuccessCycles Tasks will not be impacted during the Beta. After the Beta is completed, SuccessCycle Tasks will still be available until we move SuccessCycles into the new Task framework.
Features in Progress
Hyperlinks to Customers and Tasks in the Notifications feed
Stop notifying the Task creator of their own tasks or changes
Connect Tasks to the automation rules
Connect Tasks to the Activities Report
What Comes Next?
Task Alerts and Notifications from Email, Slack, MS Teams
Personal Task Templates
Recurring Tasks - Weekly, Monthly, Yearly
Features In The Next Phase:
External Task Sharing
Bulk Task Assignments
Please reach out to your CSM or contact our Support Team with any questions.